61% of small business owners don't have a formal disaster recovery plan
A recent poll found 61% of small business owners don't have a formal disaster recovery plan and 60% lack business interruption insurance.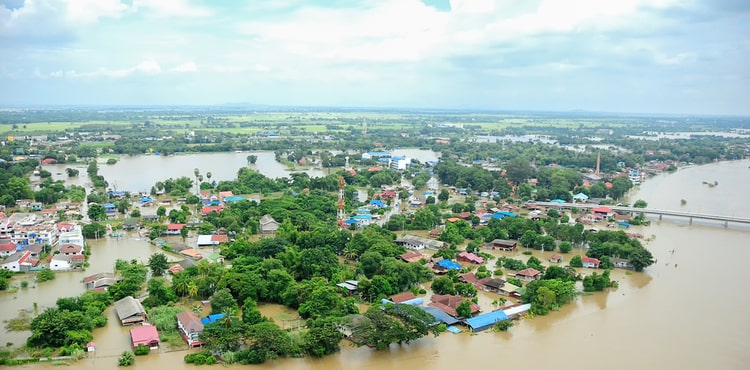 Natural disasters such as fires, tornadoes, and hurricanes can wreak havoc on small businesses. Depending on the severity of the event, some businesses face closures of days, weeks, or even months. However, most small businesses lack a disaster recovery plan and basic insurance protections that could mitigate a financial catastrophe in the event of a natural disaster, according to a recent poll.
A recent poll conducted by Insureon in partnership with online small business directory Manta found that 31% of small business owners don't know if their business would survive if it was forced to close for more than a month. An additional 13% say they are confident it wouldn't. Despite that uncertainty of survival, 61% of small business owners say they don't have a formal disaster recovery plan.
When a natural disaster strikes, business interruption insurance can help pay for a business's operating costs if it is forced to temporarily close. However, 60% of business owners surveyed don't have this coverage.
Survey highlights:
61% of small business owners lack a formal disaster recovery plan.
56% of small business owners say they could survive a closure lasting more than one month.
40% of small business owners carry business interruption insurance.
10% of small businesses have been forced to temporarily close due to a natural disaster.
The poll margin of error is +/- 1.91 percentage points.
How to plan for a disaster
While only 10% of those surveyed said they have ever been forced to close following a natural disaster, 20% of those who closed never reopened. One way to reduce the odds of being forced to permanently shutter your business is to create a disaster recovery plan before it's needed. Some factors to consider include:
Names and contact information for key employees, including what their role will be during the disaster. It should also include contact information for utility companies, the landlord if the space is rented, and key vendors.
An identification and assessment of any risks the business might face from a natural disaster, along with potential strategies and solutions.
Documents, programs, and resources that are critical to the business's operations. For example, processing payroll.
This would also be a good time to ensure that all information critical to business operations is being backed up daily, either off site or in the cloud.
Any steps business owners take to minimize damage from a potential disaster, such as a hurricane, can also pay off in savings. As reported by Insurance Journal, every dollar a business spends on hurricane protection reduces loss exposure by an average of $105.
Business interruption insurance helps prevent permanent closure
Another critical component of any disaster recovery plan is business interruption insurance. This policy can help replace a business's lost income and pay expenses if it is forced to cease operations due to a disaster such as a hurricane, hailstorm, fire, or flood.
The typical business interruption policy can provide up to one year of benefits and help pay for:
Day-to-day operating expenses, such as employee wages, taxes, and loan payments
Lost revenue while the business is closed
Rent or relocation costs if the business is forced to move
Special considerations for natural disaster insurance
Business interruption coverage is typically sold as a rider to a commercial property insurance policy, which helps pay to repair or replace business equipment that is stolen or damaged. If business owners are seeking comprehensive hurricane insurance or windstorm insurance, they should consider adding business interruption insurance to their existing property insurance coverage.
If the event that forces a business to close is not covered by property insurance, such as a flood, then business interruption insurance will not cover the claim. To specifically protect a business from the damage caused by flooding, business owners will need to contact their insurance agent and add a commercial flood insurance endorsement to their property insurance policy.
Flood insurance is provided through the National Flood Insurance Program (NFIP), which is managed by FEMA. There is typically a 30-day waiting period on new flood insurance policies, so business owners should buy the policy before they need it, not days before a hurricane is predicted to strike.
What to do if a natural disaster strikes
If a natural disaster impacts your business, your first priority after making sure everyone is safe should be filing a claim with your insurance company. If possible, take photos to document the damage. This can help streamline the claims process. The sooner a claim is filed, the faster you're likely to receive the money you need to mitigate a business interruption and make any necessary repairs.
Next, reach out to everyone closely involved with your business, including, employees, vendors, and customers. Let them know what happened, explain the steps you are taking to address the situation, and tell them when you expect to reopen.
It's also a good idea to let lenders know about the situation. In the wake of a natural disaster, banks and other financial institutions will often defer payments until affected businesses are able to get back up and running.
Finally, consider setting up an alternate business location. For example, see if it's possible for employees to work remotely until your office reopens.
By acting to file a claim as quickly as possible, and opening the lines of communication with everyone impacted by the closure, business owners can minimize the financial damage to their company.
Compare quotes from trusted carriers with Insureon
Complete Insureon's easy online application today to compare quotes from top-rated U.S. carriers for commercial property insurance and other types of coverage. Once you find the right policy for your small business, you can begin coverage in less than 24 hours.