Starting a food truck: Quick tips to get you started
If you've dreamed of owning and operating a food truck and have decided to take the plunge, read this article for tips on how to get started.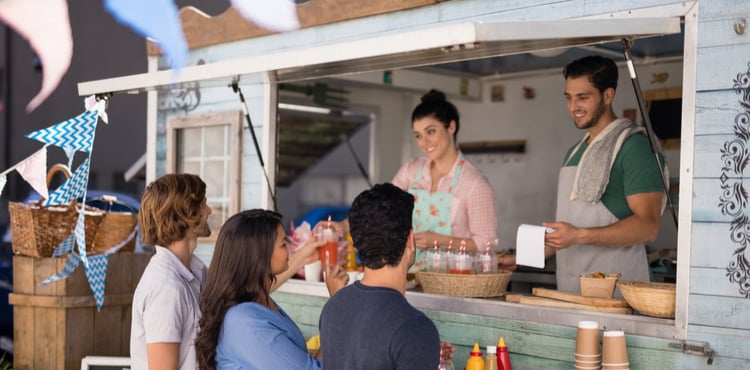 A city ordinance in San Luis Obispo, California, is making it more difficult for mobile vendors to operate in city limits – apparently local restaurants and disgruntled customers are hoping to rid the town of food trucks because they interfere with establishments that aren't capable of moving from place to place. City council members want to limit food trucks from operating in school zones and prevent mobile vendors from hanging around neighborhoods between the hours of 10:00 p.m. and 7:00 a.m.
What does this mean for restaurants looking to expand their reach by going mobile? There are plenty of forces working against you to make selling food on the go harder. Luckily, you can reduce your risk of losses from some sources by investing in the right insurance policies. Read on to find out which policies are essential to helping food truck owners manage the unique risks they face.
Commercial auto insurance for mobile food truck operators
Going mobile has its risks. While it may seem like a simple way to gain exposure and increase revenue, food trucks could lead to major financial losses for those without an adequate risk management plan in place. Among the most important coverages to include in that risk management plan? Commercial auto insurance.
Commercial auto insurance protects your food truck from a variety of accidents, and is essential to protecting the key asset your mobile operations depend on. Accidents are costly – in the sense that they're traumatic and can have negative impact on your pocketbook. And when a single accident can put your entire operation out of commission, it's especially important to make sure you've got adequate coverage.
One important note: Commercial auto insurance covers the truck itself; to keep the equipment and inventory inside your food truck safe, you'll need a couple of other property policies – see below for details.
Inland marine insurance for mobile food trucks
Inland marine insurance offers protection to property that's in transit. So if you're in an accident while driving to your usual lunch corner and the accident damages your stove, you could collect benefits from an Inland Marine policy.
This policy also protects equipment and inventory when it's on the move from one place to another. But once your wheels stop spinning, Inland Marine stops protecting you. That's where other types of Property coverage come in.
Other property insurance for mobile food trucks
A standard commercial property insurance policy protects your business property and physical location, whether you own it or rent. But when you're selling food at a rally or as part of your usual rounds, your standard property coverage may not apply. To make sure you've got coverage when you're parked and serving customers, be sure your policy includes "Owned Premises" coverage. This endorsement can also protect you if your truck is burglarized while it's parked for the night.
Beyond property insurance
Of course, food truck owners can also benefit from standard business insurance policies, including general liability insurance and (if you have employees) workers' comp insurance. And in addition to insurance, managing risk through various business practices can help you avoid the kinds of incidents that lead to policy claims.
Compare quotes from trusted carriers with Insureon
Complete Insureon's easy online application today to compare insurance quotes from top-rated U.S. carriers. Once you find the right policy for your small business, you can begin coverage in less than 24 hours.