Liquor Liability Insurance
Quotes in 15 minutes. Choose your industry to get started.

We partner with trusted A-rated insurance companies
How much does liquor liability insurance cost?
Several factors influence the cost of liquor liability insurance, including your type of business, the extent of coverage, and where your business is located. Businesses with more liquor sales typically pay more for coverage.
What you sell helps determine the cost
The cost of liquor liability insurance is influenced by what percentage of your sales are made from alcohol. The cost goes up for businesses with a higher percentage of alcohol sales. That means bars pay more for liquor liability insurance than restaurants, grocery stores, and other businesses that sell food and other items as well.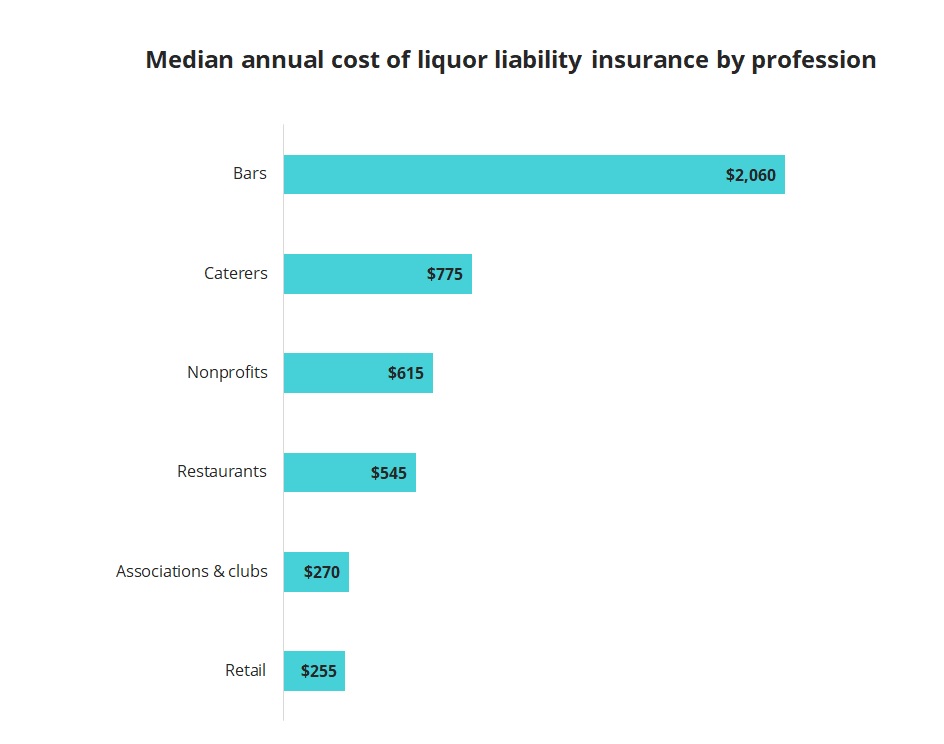 Liquor liability coverage limits also affect the cost
Your policy limits influence how much you'll pay for liquor liability insurance. For Insureon customers, the median limits for liquor liability insurance are $2 million for bars and $1 million for restaurants.
Some states set requirements for policy limits. For example, businesses in South Carolina that serve alcohol after 5 p.m. are required to carry a minimum of $1 million in liquor liability insurance.
The state your business is located in and its unique risks will also determine the cost of liquor liability insurance. Fill out our free 15-minute online application to compare quotes from top-rated U.S. carriers.
How to save money on liquor liability insurance
These three methods can help a small business reduce its monthly premium.
Bundle your insurance policies
Businesses can sometimes find discounts when they purchase multiple insurance policies from the same provider. For example, if you own a small, low-risk business, you may qualify for a business owner's policy. A BOP bundles general liability insurance and commercial property insurance together at a reduced rate – and you can add liquor liability insurance as an endorsement. If you don't qualify for a BOP, then you can add liquor liability as an endorsement to your general liability policy.
Pay your entire premium upfront
Your liquor liability policy premium can typically be paid in monthly or annual installments. It might be tempting to go with a smaller monthly payment, but consider paying the full premium. Businesses can usually save money this way because many insurers offer discounts for annual premiums.
Manage your risks
If your small business has a clean claims history, expect to pay lower insurance rates. An effective way to do this is to create a comprehensive risk management plan. For example, you might:
Provide your employees with alcohol service training
Encourage patrons to consume food with alcohol by offering discounted food items
Serve water alongside alcoholic beverages
Minimize hazards on your premises
Learn more about business insurance costs
Insurance premiums vary based on the policies a business buys. See our small business insurance cost overview or explore costs for a specific policy.
Compare liquor liability insurance quotes
Save money by comparing insurance quotes from multiple carriers.