The most in-demand skills for freelance data scientists
More and more companies are looking to hire freelance data scientists to analyze trends, solve complex problems, and glean meaning from massive amounts of data.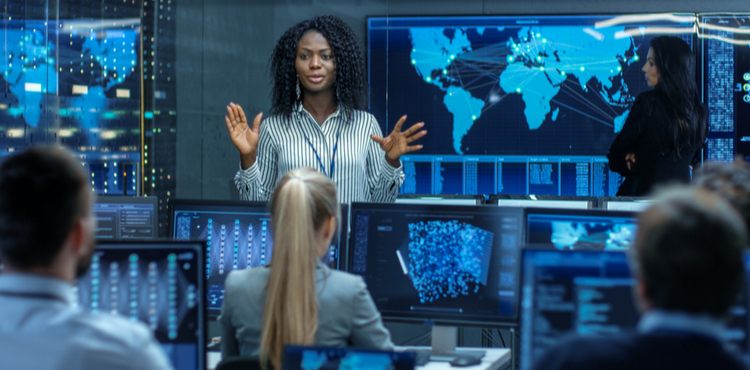 Today, organizations live and die on information, or more precisely on the insights they extract from that information, whether it's to anticipate the behaviors of their customers or determine where to spend their advertising dollars.
As such, more companies are looking to hire freelance data scientists to help them analyze trends, solve complex problems, and glean meaning from massive amounts of data. You'll likely find freelance data science jobs in a variety of fields, including tech startups, transportation, biotechnology, and telecommunications.
A freelance data scientist typically needs at least a bachelor's degree in computer science, social sciences, physical sciences, math and statistics, or other related fields. You may also need a master's degree in computer science or a related field, according to the U.S. Bureau of Labor Statistics.
In addition, you'll need to integrate your IT knowledge with other in-demand technical and nontechnical skills, including programming, data visualization, and communication.
Technical skills
To start a career as a freelance data scientist, you'll need to know a number of technical skills, including:
R programming language
Many freelance data scientists prefer to use the R programming language to solve statistical problems since it is specifically designed for data science needs. However, it has a steep learning curve, and it's easier to learn the core data science skills once you've mastered the basics. R is a common programming language used at top tech firms, and it's also used by banks and other financial institutions, analyst and consulting firms, research labs, academic institutions, and other organizations.
Python programming language
Python is great for freelance data scientists because it can be used for nearly all the steps involved in data science processes. Python programming has a simple and fast learning curve, and many data scientists consider it to be straightforward to use with better readability and easy-to-use syntax compared with other programming languages. You can use Python to develop web services, machine learning models, data mining, and classifications. Python coding language is also good for building data analytics tools since it can offer better insights, correlate data from big datasets, and understand patterns.
SQL (Structured Query Language)
This programming language is important for freelance data scientists because it's needed to perform such tasks as adding, deleting, extracting, or taking action on information in a relational database. It also helps you transform database structures and perform analytical functions.
Apache Spark
This is a fast unified analytics engine for big data processing and machine learning. Apache Spark is designed to support a wide variety of data analytics tasks, including simple data loading and SQL queries as well as machine learning and streaming computations. Apache Spark's strength is in its speed and platform, which makes it easy to use with data science projects. With Apache Spark, freelance data scientists can carry out analytics, including data intake and distributing computing.
Nontechnical skills
To be a leading freelance data scientist, you'll also need to continue to develop some essential nontechnical skills, including:
Industry knowledge
Successful freelance data scientists need to have a good understanding of the terms and concepts of whatever industry they'll be working in. It's crucial that you comprehend how the industry functions and how data is collected, evaluated, and used in your industry. Keep current on the market and trends. Whenever possible, attend workshops, conferences, and other industry events. You should also explore new methods and techniques to solve the problems your clients in the industry may have in the future. Good freelance data scientists have to be savvy enough about the business so they can adequately interview company stakeholders to understand their problems and determine which data will be most relevant.
Communication skills
Freelance data scientists typically have to present their technical findings to clients' nontechnical teams, such as sales and marketing, who may be relying on that information to do their jobs. Therefore, you need to be able to clearly and fluently communicate those findings, verbally and in writing. It's important to communicate with your clients the results and values embedded in the data that you analyzed. Most business owners don't want to know what you analyzed. What they do want to know is how your findings can positively affect their business.
Critical thinking
Freelance data scientists have to be critical thinkers, which means objectively analyzing facts on any given problem before formulating opinions or making judgments on the issue.
Protect your data science company
Business intelligence and data mining professionals face business risks every day that could lead to costly and time-consuming lawsuits. For instance, a client could claim that actions taken on recommendations from your data analysis caused widespread financial damages. The costs to defend yourself from a lawsuit – even if it's unwarranted – could harm the future of your freelance business.
Technology insurance offers some financial protection from risks. Errors and omissions insurance covers disputes with clients about your work, and cyber liability insurance can protect your data science company against liability and expenses due to the loss of data or an external data breach.
Compare quotes from trusted carriers with Insureon
Complete Insureon's easy online application today to compare insurance quotes from top-rated U.S. carriers. Once you find the right policy for your data science business, you can begin coverage in less than 24 hours.