Does workers' compensation pay for bike-to-work injuries?
Usually, bike-to-work injuries are not covered by workers' compensation insurance, but there are some exceptions.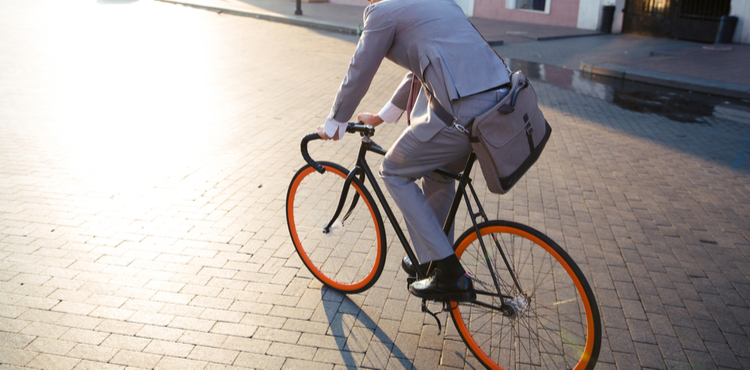 Ditching the car and biking to work is good for the Earth and good for your health. Each year, thousands of businesses across the country encourage their employees to hop on their bicycles for Bike to Work Week.
However, as with all forms of travel, biking has its hazards, and many business owners and employees don't have a clear understanding of how workers' compensation insurance deals with bike-to-work injuries.
The short explanation?
Workers' compensation insurance won't cover injures that occur while riding to work.
However, it can cover injuries that occur while riding a bike for work.
And as with most things, there are some exceptions to these rules. Let's take a look.
Workers' comp won't cover commuter injuries
Even on Bike to Work Day, employee commutes aren't considered part of their employment. Attorney Denise Elliott of the law firm McNees Wallace & Nurick, LLC explains, "For employees with fixed places of employment (i.e., they go to the same office every day), the commute to and from work is not considered to be 'in the course and scope of employment,'" she says. "Injuries sustained during the commute are not covered by the Workers' Compensation Act. This rule applies equally to those commuting in cars, biking to work, walking to work, etc."
However, if an employee is injured while traveling between offices, they might be able to make a claim, says attorney Joseph Brown, cofounder of the Accident Law Group.
Furthermore, they would likely be able to make a claim against the person who caused the accident. "A person can collect from both workers' comp and receive a settlement from the person responsible," Brown notes. "However, they must pay workers' comp back from the settlement."
The exception to that rule? Brown says, "If the person who causes the accident doesn't have insurance, the injured party can collect both workers' comp benefits and an uninsured motorist settlement without paying workers' comp back."
The takeaway: The commute to or from work isn't covered by workers' compensation insurance, unless an employee is traveling between offices on work-related business.
Workers' comp can cover work-related bicycle injuries
So when can an employee make a workers' comp claim if they're injured on a bike?
"If the employee is running errands or deliveries for their employer and this is part of their job, then yes, any injuries sustained while performing the duties would be covered under the Act," says Elliott. "They are furthering the interests of the employer by doing their job. It does not matter whether the employee is making the deliveries in a car, on a bike, or by foot."
In other words, if an employee is delivering something to a customer by bike and gets injured in the process, they can make a workers' compensation insurance claim. The mode of transportation doesn't matter so long as the errand is work-related.
The takeaway: Workers' compensation insurance can cover injuries that happen while an employee is traveling as part of their job (making deliveries or running errands).
But it's not always that simple
The "coming and going" rule basically means that employees traveling to or from work aren't entitled to workers' compensation benefits.
But attorney David Oberly of Marshall Dennehey Warner Coleman & Goggin says there are plenty of exceptions to the coming and going rule. He notes, "The courts have continued to carve out exceptions to the general bar on recovery for travel-related injuries."
These cases have become very fact specific, and if the employee can show that there is a "reasonable connection" between their injury and the job, they may be entitled to benefits.
Oberly also reminds small business owners that they can be liable for accidents their employees cause others during work errands. See "What is vicarious liability?" for more information on that topic.
The takeaway: Create clear travel policies that specify what activities are considered work-related, Oberly suggests. "Ideally, employers should guard against sending employees on casual missions and errands unless absolutely necessary."
So think twice before you send the new guy out to pick up your coffee. If he gets injured, your workers' comp policy may have to pay for his medical expenses.
Compare quotes from trusted carriers with Insureon
Complete Insureon's easy online application today to compare quotes for workers' compensation insurance from top-rated U.S. carriers. Once you find the right policy for your small business, you can begin coverage in less than 24 hours.