5 sure signs you're about to hire a rock star
An excellent hire can add a huge amount of value to your business. Learn how to see rock star potential by seeking out candidates who take personal responsibility, ask good questions, and are ready to rise.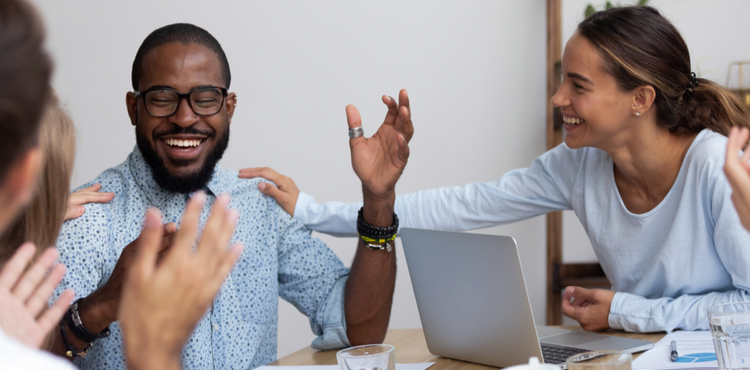 Hiring is a major pain point for most small business owners. It would be one thing if you had a ton of experience evaluating candidates. At least then you could have confidence that the time and attention the process takes was worth it.
But realistically, unless you're an HR consultant, you probably haven't had the opportunity to do much interviewing from the boss's side of the desk.
Don't worry – we've got your back. We talked to HR professionals to see how they know they're getting the right person. Here are the telltale traits of a top candidate.
1. They see the connection between actions and success
Dave Popple, corporate psychologist and the president and founder of Psynet Group, says you want to hire candidates who believe their successes are a result of their actions.
"If they believe failures are due to mistakes in their actions, they are more likely to exceed expectations," he notes. According to Popple, people who attribute their success to personal characteristics, like looks or personality, tend to be entitled.
What to look for: A candidate who knows success takes work. Ask them to walk you through their most significant career accomplishment.
2. They ask good questions
Chavaz Kingman, corporate trainer, executive consultant, and founder of AYF Consulting Corporation, knows a potential employee is a winner by the intelligence and thought process evident in the questions they ask.
One sign Kingman looks for is evidence they are prepared to learn: "I'm always delighted to see a candidate come in well-prepared and even with pen and paper to take notes on any items covered in the interview that they may not have been able to discover online."
What to look for: A candidate who asks questions beyond "What's in it for me?"
3. They have the skills for this job and the one above it
"Being short-sighted in business is a death sentence," says Edward Zaborniak, president of the HR consultancy Frame. "It's always better to take the long view and have a strategy in place that aligns with your vision and mission."
He says the same holds true for hiring. "An ideal employee would possess not only the knowledge, skills, and abilities to perform the job that they are in, but a position or two above them," he notes.
What to look for: A candidate who brings something extra to the table. Dig into their resume and ask which skills they want to develop most.
4. They are interested and interesting
Lori Kleiman, HR consultant, author, and managing facilitator of HR Topics, believes that being interested in a position is only the beginning. "We can all find people to push papers, but if you want an innovative, creative professional, you'll see it right off the bat," she says.
In her experience, finding engaging individuals starts with the first contact. "Did they take time to send an interesting resume – or just use the template from Word?" she asks.
In the interview, she suggests asking how they added value to their last project or how they solved a problem when there wasn't a procedure to follow. "If you can find candidates who can think on their feet, you will have employees who take responsibility and move your organization forward," says Kleiman.
What to look for: A candidate who isn't afraid to improvise. Ask them what projects they would tackle if they had $50,000.
5. They understand their role
As the director of human resources for the steam cleaning products company Dupray, Pierre Tremblay curates approximately 500 resumes a month and has onboarded dozens of new hires. His experience has taught him that every employee is a cog in the massive logistical operation of a company.
That's not to say they aren't important. On the contrary, he says, "If one cog stops working properly, the whole company suffers." So he looks for candidates who can identify the "how, where, and why" of their particular functions.
Tremblay likes to give new recruits time to fit in. "I usually use a 'first day, first week, first month' breakdown to take a look at clues for a great employee." On day one, good employees try to get to know everyone in their space. By the end of the first week, Tremblay expects the employee to understand the workflow and their role in it. Once the first month is over, a good employee has learned which levers to pull to do the job.
What to look for: Consider offering a temp-to-perm position. It gives you and the employee an opportunity to see if it's a good match.
Compare insurance quotes from trusted carriers with Insureon
No matter what kind of rock star you hire, you still have to protect your business from employee risk. Complete Insureon's easy online application today to compare quotes for general liability and other kinds of business insurance from top-rated U.S. carriers. Once you find the right policy, you can get coverage in less than 24 hours.