Why small businesses shouldn't hire 70% of employees
Disengaged employees can lead to a huge drop in productivity and profits. Learn how to engage your employees so they succeed and help your company find success, too.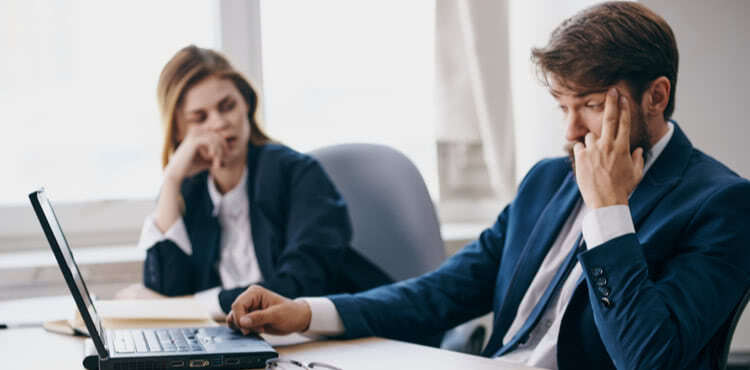 Take a look around your workplace. What do you see? If your workers reflect the findings of Gallup's "State of the American Workplace" survey, you may be surprised to realize only 30% of your employees are engaged in the work they're doing. According to the survey, the majority of employees are…
Disengaged (52%)
Actively disengaged (18%)
In terms of productivity, Gallup asserts the employees who are phoning it in cost businesses $450 billion to $550 billion in lost productivity a year. So while it may seem harmless when some employees relentlessly surf Facebook and keep giving their job minimal effort, know that this dead weight can be measured in gold.
Gallup also notes that disengaged employees are more likely to:
Steal from their companies
Miss work
Repel customers
Negatively affect profits
Plus, disengagement and high turnover rates seem to go hand in hand.
In short, disengaged employees are bad for business and you can't afford to hire them. With a small business, you need every hand on deck because you don't have many employees to spare.
But what makes for an invested employee? Gallup's research notes more education isn't a good marker for high engagement, especially if the employee is underemployed. Women are typically more engaged than men, but only slightly (33% vs. 28%, respectively).
Let's take a look at how to improve employee engagement.
Employees, engage!
Unfortunately, you can't just snap your fingers to get your employees to feel as though they have a stake in your business on a daily basis. But these tips can help you develop employee engagement little by little.
Pick your managers wisely. The Gallup report notes that who you name as manager may be the biggest single factor in whether or not your employees tune in when they clock in. If you're the only one running the show, know that you can't just give marching orders and expect high quality work. You have to interact with your workers and build relationships. That's the primary way to ensure they care about the future of the company – they have to feel invested in its leaders.
Allow flexible work options. The survey notes that remote employees are more engaged than in-office employees. If you can offer telecommuting options, do so. If you can't, explore other flexible work arrangements and schedules instead.
Develop employees' skills. Part of keeping employees engaged means giving them the tools to succeed in their work projects and their careers. This may mean offering to help pay for continuing education courses, thoroughly training employees, or nurturing employees' talents and interests by giving them work that exercises those skills.
Recognize good work. In team meetings, be sure to mention employees whose work stood out. Public recognition can be a powerful motivator. Another variation is to let employees recognize each others' good work at these meetings by giving them the chance to note accomplishments or problem-solving they admired.
Listen. If employee feedback is valued, workers will feel as though they have a stake in the company.
Did you accidentally hire a disengaged employee? Before sending them out the door, learn more about how to handle a problematic employee in "Small business owners: what happens when you hire the wrong person?"
Compare quotes from trusted carriers with Insureon
Complete Insureon's easy online application today to compare insurance quotes from top-rated U.S. carriers. Once you find the right policy for your small business, you can begin coverage in less than 24 hours.