New employee checklist for small businesses
The wrong hire can cost your business tens of thousands of dollars. A little preparation before extending a job offer to a potential employee can reduce the financial and legal risk to your business that comes with hiring.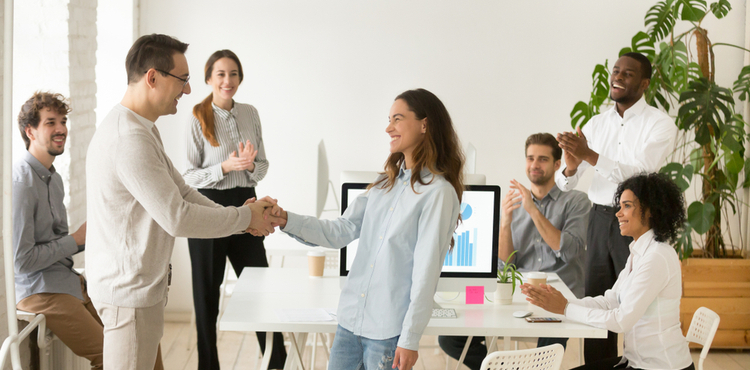 Hiring your first employee is exciting, but it's also fraught with risk. As with most things in the world of business, a little preparation goes a long way toward success. Here are some items to cross off the to-do list before you extend that job offer.
1. Research the regulations
"One of the biggest risks when adding employees is not knowing the proper labor laws and classifications that go with having employees," says Lois A. Krause, a practice leader in HR compliance with KardasLarson, LLC. "There are many regulations that are important to hiring and managing employees, such as payroll taxes, worker's compensation insurance, and having employees fill out I-9 forms to ensure they are eligible to work in the U.S."
Before you balk at that long list, Krause also notes that there are people and organizations you can turn to for help. First, she recommends visiting the U.S. Department of Labor website to learn about regulations, but she says you can also ask other small business owners for their pointers.
Get prepped: The U.S. Small Business Administration is another site that provides clear instructions for getting all your legal ducks in a row. Check out its list of tasks to complete when first hiring employees, such as getting an Employer Identification Number and posting required notices.
2. Determine compensation
No doubt about it, figuring out compensation is intimidating. You have to weigh what you can afford with what your competitors are paying, all while trying to forecast future revenue. And compensation isn't just salary. You need to factor in benefits, too.
"In most states, there are only a few basic benefits that must be offered to employees," says Samantha Reynolds, the communication coordinator for A Plus Benefits. "Businesses must pay Social Security, Medicare, and Federal Insurance Contributions Act (FICA) taxes for all employees. They also pay state unemployment insurance and workers' compensation insurance for their employees."
Reynolds adds that some states have additional paid disability or sick leave requirements, so it's important to know the laws in your area.
Get prepped: You don't have to do the calculations on your own. The article "Can you afford a new employee?" from QuickBooks lists some of the hidden costs of hiring staff.
Bonus tip: "Offering voluntary benefits, such as dental, vision, life insurance, and disability insurance, can be cost-effective ways to increase your benefits offerings," says Reynolds. "You can also look into options for 401(k), flexible spending accounts, and supplemental benefits like accident and critical illness policies. These often cost a company very little to offer to employees."
3. Hire smart
"Bringing on a new hire is the most challenging and impactful thing a small business owner needs to do," says Peter Rosen, the founder and president of HR Strategies & Solutions.
Small business owners, he says, may not know how to minimize the chance of making a poor hiring decision because they're not experienced in interviewing and listening. But, he says the biggest problem is that most aren't sure what they are looking for.
Rosen recommends writing a mission statement or value proposition before you hire staff. These can serve as "guide rails" you can use to develop your culture and build passion in your candidates.
Get prepped: Rosen says creating your business's values and vision is not something to take lightly, so he advises you to "get help and involve the key players." But even with a clear understanding of what you want, he says an objective outsider is a good way to maximize your chance of success.
Find out if you're on the right track with "5 signs you're about to hire a rock star."
4. Make them feel welcome
Founder and principal of Focus HR Consulting Andrea Herran thinks the way you handle your on-boarding sets the tone for your employer-employee relationship.
"People don't realize what an impact it can have," Herran says. "For example, and it sounds obvious, but people always forget to put this on their checklists: Where are they going to work? Is their phone set up? Is their email already set up?"
According to Herran, these simple considerations show your employee they are welcome and that you're ready for them to get to work.
Get prepped: Herran also suggests having an informal conversation to set expectations. Your new hire may know the mechanics of the job, she says, but they don't necessarily know how you want them to do it.
This requires a little reflection on your part. Take a moment to outline all the little things that are important to you that wouldn't show up in a job description.
"How you bring somebody on board on that first day shows them they're wanted, and that helps them want to live up to your expectations," says Herran.
Compare quotes from trusted carriers with Insureon
Complete Insureon's easy online application today to compare quotes for workers' compensation and other types of insurance from top-rated U.S. carriers. Once you find the right policy for your small business, you can begin coverage in less than 24 hours.