COVID-19 sanitation and cleaning businesses: How to keep your business safe from risks
Cleaning businesses have been on the front lines sanitizing and disinfecting workspaces to battle against the spread of COVID-19 since the early days of the pandemic. Following these steps can help you continue to keep your employees, customers, and business healthy.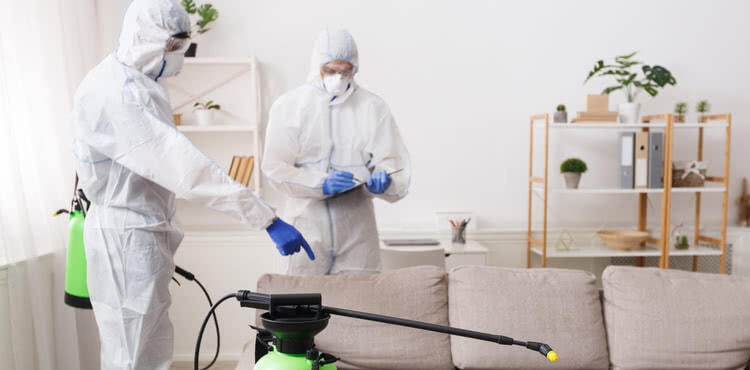 Since the start of the pandemic, the coronavirus (COVID-19) has hurt businesses across many industries. In that time, however, cleaning and janitorial businesses have continued to see a sharp increase in demand.
As cleaning service requests continue to pour in from both businesses and households trying to prevent further infection, the cleaning industry has been seeing significant growth year-over-year. Most recently, the number of janitorial service businesses increased by 6.4% since the beginning of 2021, according to IBISWorld.
While current cleaning businesses are hustling to meet the changing needs of new and current customers, other hopeful entrepreneurs are finding now may be the time for them to look into how to start a cleaning and sanitizing business. Regardless of the situation, cleaning and sanitization businesses must also prepare for the potential financial and physical risks associated with providing these services.
Follow these practical steps to avoid potential pitfalls as we continue to take on the coronavirus.
Use trusted cleaning products and processes, and present your business accurately
The right tools, techniques, and training can help protect your business. But beware of using new chemicals and cleaning methods to fight COVID-19. It could spell trouble for your business.
If you're not careful, you could easily damage a client's surfaces when using chemical agents or approaches you're not familiar with. And insurance probably won't cover it.
Let's say you used an unfamiliar solvent to clean a multimillion dollar home. It ruined the hardware on the sink and caused nearly $10,000 in damages. Your business's general liability insurance policy didn't cover those costs.
In the example above, an errors and omissions (E&O) policy might have covered a portion of the damages, but you'd need to check with your insurance agent to confirm. This coverage is sometimes called professional liability insurance.
If you advertise that your business can "sanitize" a location but someone at that location ends up contracting COVID-19, you could be sued or found liable. A general liability policy might not cover the cost of that damage. Your E&O policy may address this coverage, but many do not.
Covering the expense of property damage or negligence isn't cheap. But it's nothing compared to the costs of illness to your workers caused by COVID-19.
Employees are your most valuable asset, and you need to protect them from on-the-job risks, including infection.
Compare quotes for cleaning business insurance
Protect your workers from coronavirus exposure, harsh chemicals, and training being lost in translation
If you're dealing with COVID-19, one of your top priorities should be to keep your employees safe and healthy.
To help protect them, take these steps:
Use the right disinfectants. While it's unlikely to catch COVID-19 from a surface, the risk still exists, as COVID-19 can survive on some surfaces for hours or days. Research has found that the coronavirus can be easily killed by common disinfectants. To be safe, use sanitization and cleaning products from this Environmental Protection Agency (EPA) list of effective disinfectants for COVID-19.
Outfit your employees with appropriate protective gear. Depending on the job and the chances of exposure, this may include hand sanitizer, eye protection, gloves, masks (preferably N95 respirators), and more.
Provide the proper employee training. Some cleaning businesses have employees who aren't proficient in English. Make sure they know the chemicals they're using, and what to do if they get them on their skin or in their eyes.
Cleaning can be a dangerous occupation for workers at any time. But in a pandemic, those risks multiply.
If one of your employees is injured or infected on the job, lost wages and medical expenses are typically covered by workers' compensation insurance.
How workers' comp handles COVID-19 infections is continuously evolving, and it varies by state. The big hurdle for workers with a COVID-19 claim might be proving they were infected on the job.
An employee could claim that your negligence caused their illness or injury. In that case, they could file a lawsuit.
If they do sue, employer's liability insurance might cover the costs of the lawsuit. This is usually part B of your workers' comp policy. An employment practices liability policy could also help.
You'll need these policies in place before any legal action is taken.
Take time now to understand what your business insurance policies cover and ensure you're protected from potential losses. It may help to chat with a licensed agent to make sure you have the right coverage.
Put the right insurance coverage in place
The best way to protect your cleaning or sanitization business is purchasing insurance policies to cover all the scenarios we've illustrated.
Consider these policies for your cleaning business.
General liability insurance
The most popular insurance for cleaning businesses is general liability insurance. It covers third-party property damage and injuries, as well as advertising injuries like defamation or copyright infringement.
General liability insurance covers expenses such as:
Third-party medical costs
Attorney fees
Negotiated settlements
Court-ordered judgments
General liability insurance does not cover the risks of environmental exposure, however. Exposure to cleaning chemicals or the coronavirus could cause injury, illness, or property damage. To cover those losses or legal costs, businesses would need an E&O insurance policy.
Workers' compensation insurance
Workers' comp insurance covers lost wages and medical expenses if an employee becomes ill or is injured on the job. This coverage is required by most states.
Janitorial/surety bonds
Many clients won't hire cleaning services unless they're bonded and insured. Janitorial/surety bonds protect your business by reimbursing your clients after employee theft.
Bonded businesses have greater credibility and an advantage over the competition.
Commercial auto insurance
If your business uses company-owned vehicles to service clients, you need commercial auto insurance. This policy will cover vehicle theft, damage, and accident-related costs such as property damage, medical bills, or legal costs.
If you own a cleaning or sanitization business, the continuous threat of the coronavirus may increase business demand. But make sure the risks don't outweigh the potential rewards.
Make sure you have the appropriate insurance policies in place to protect your investment. You may want to act quickly to find the right quote and lock in the best price, as insurance rates continue to go up. With the right coverage and the right steps, you can keep your business, clients, and employees healthy.
Complete Insureon's easy online application today to compare quotes for business insurance from top-rated U.S. carriers. Once you find the right policy for your small business, you can begin coverage in less than 24 hours.
You may also like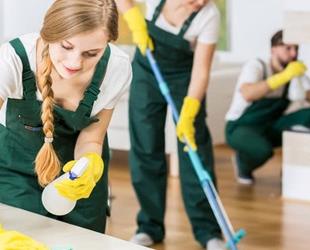 How to start a cleaning business
Learn how to start a cleaning business with a few simple steps and considerations. There's plenty of opportunity in this sector, and the startup costs are relatively low.
Go to article