Learn about business insurance requirements and the most common policies for IT consultants in Illinois.
Which policies are required for an IT consultant in Illinois?
If you have a commercial lease, your property manager may require you to purchase general liability insurance. Commonly purchased by IT consultants in Illinois, general liability insurance can protect your business from expenses associated with common mishaps, such as client property damage and injuries.
Your clients may require errors and omissions insurance in a contract. Also called professional liability insurance, errors and omissions insurance provides financial protection if a client files a lawsuit claiming your work caused financial harm because it was late, erroneous, or incomplete.
State law in Illinois requires every small business with even one part-time employee to provide workers' compensation coverage, and business-owned vehicles must be covered by commercial auto insurance. Personal vehicles used for business purposes should have commercial coverage, as well.
Compare IT consultant insurance quotes from top U.S. carriers
What are the most common policies for an Illinois IT consultant?
The most common policies for IT consultants in Illinois vary depending on revenue, client contracts, partnerships, and other factors.
General liability insurance
General liability insurance is the foundation of an IT consultant's business protection, with coverage that extends to client injuries, client property damage, and advertising injuries. Most commercial leases require you to have this coverage.
Business owner's policy (BOP)
IT consultants often qualify for a business owner's policy. This package helps your business save money by bundling commercial property insurance with general liability at an affordable rate.
Errors and omissions insurance (E&O)
Many clients require proof of technology errors and omissions insurance before entering into contracts for professional services. This policy, also called professional liability insurance or IT consultant liability insurance, can help cover legal expenses if you're sued for unsatisfactory performance or a work mistake.
Cyber liability insurance
Cyber liability insurance can help IT consultants survive data breaches and cyberattacks experienced by your company or a client whose systems you are responsible for protecting. Many professional liability policies include this coverage, but check with your licensed Insureon agent to make sure.
Fidelity bonds
Clients in banking or financial services often require IT consultants to carry a fidelity bond. Also called an employee dishonesty bond, it provides coverage when an employee steals money, equipment, or other assets from one of your clients. That includes theft by electronic funds transfer.
Illinois workers' compensation
If you own an IT consulting business in Illinois and have anyone working for you, even one part-time employee, you are required to purchase workers' compensation coverage. Sole proprietors can decide whether or not they want to purchase coverage, but it's something that every small business owner should consider. Workers' comp can help cover medical expenses and pay partial lost wages resulting from on-the-job injury or occupational illness. While it's true that IT consultants don't face the same risks as construction workers, accidents can happen in any line of work.
Commercial auto insurance
Personal auto insurance policies typically exclude business use, which means you could end up paying for an auto accident if it happens on a work errand with your personal vehicle. Commercial auto insurance is required for vehicles owned by IT consulting companies. Hired and non-owned auto insurance covers personal vehicles used for business purposes.
What do IT consultants in Illinois pay for business insurance?
According to an analysis of Insureon applications, business insurance costs for IT consultants in Illinois are in line with the national median. At just over $3,000 a year, commercial auto insurance is the most expensive IT consultant insurance policy in Illinois, costing about $200 more than the national median. Errors and omissions insurance comes in second, at just under $2,400 a year. The good news: the median cost in Illinois for general liability insurance is a relatively modest $467 – less than the national median cost of $500.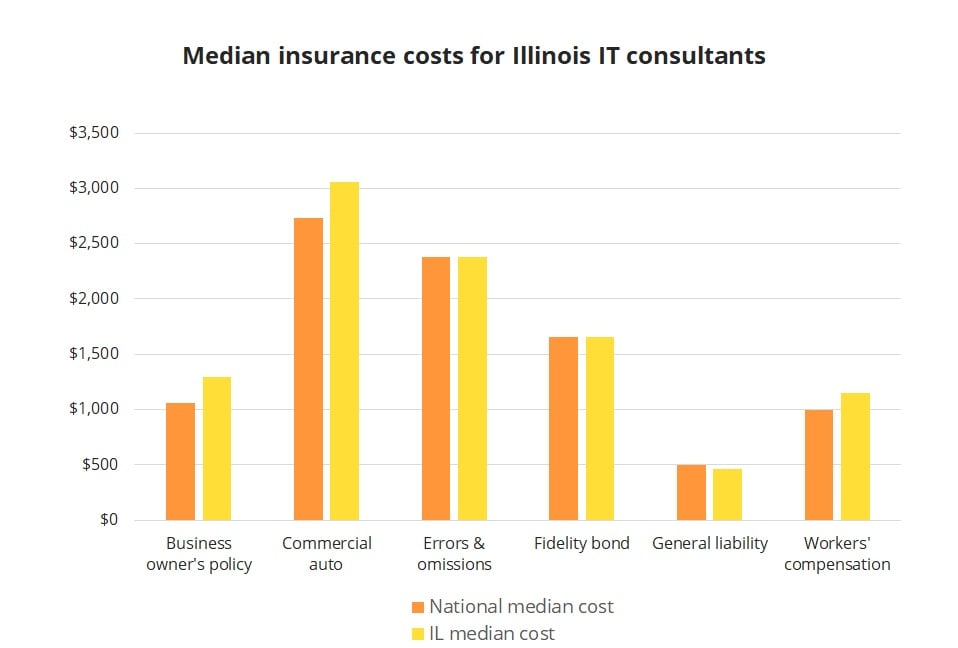 Save time and money with Insureon
Insureon's industry-leading technology helps IT consultants in Illinois save time and money shopping for insurance by comparing policies from top U.S. carriers. Start a free online application to review quotes for the policies that best fit your business needs. Our insurance agents are licensed in Illinois and can answer your questions as you consider coverage.
To make the application go quicker, have this information ready:
Workforce details, such as the number and types of employees
Current and projected revenue
Business partnerships
Insurance history and prior claims
Commercial lease insurance requirements
Apply for free IT consultant insurance quotes today.
Compare insurance quotes for IT consultants
Save money by comparing insurance quotes from multiple carriers.