Why you might want to run those shoes by an employment attorney
Even when your intentions are good, you should still consult an employment attorney to make sure you aren't putting yourself at risk of liability.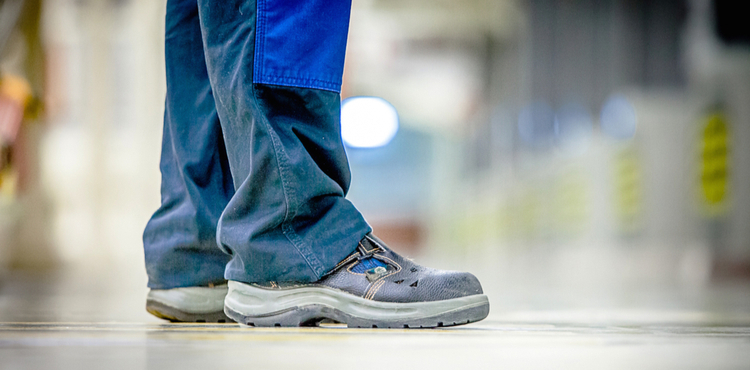 You'd think that encouraging workers to buy safety shoes would be lauded as a good move on Chipotle's part, but according to HR Business and Legal Resources, it got the franchise into some serious legal trouble. Turns out, Chipotle gave California workers the option to purchase nonslip shoes through a program called Shoes for Crews. The report states the shoes could be purchased through a direct payment or paycheck deduction. Seems harmless enough, right?
Here's where the fast food chain's good intentions went awry. Because the shoe program managed the risk of worker slip-and-fall accidents, Chipotle received a discount on its workers' compensation insurance premium. To boot, the report states Shoes for Crews also gave Chipotle $25,000 toward worker injury claims as part of its product warranty. For those of you keeping score at home, that's twice now Chipotle benefitted from its employees purchasing safety shoes.
The HR BLR report notes that Chipotle was sued over the shoe program, and a court ruled that:
Employees buying their own safety shoes counted as a contribution from employees to cover workers' compensation costs.
Chipotle didn't buy the shoes, but still received warranty money from Shoes for Crews all the same, which went toward employee medical bills.
It didn't matter that the program was voluntary. Voluntary and involuntary employee workers' comp contributions are both illegal in California. Here are a few more lessons you should take away from this case.
1. Employers may be able to save on insurance premiums for actively managing risk exposures.
One thing Chipotle got right: managing risks is a good way to reduce insurance premiums. Risk management discounts vary from provider to provider, so talk to your insurance agent to see what programs you may be able to participate in.
2. Employers must be careful not to violate state laws, particularly ones that govern workers' rights.
Like California, most states prohibit employees from contributing toward any workers' compensation costs. That responsibility belongs solely to the employer. (To learn more about your state's workers' comp laws, look up your state on our map.)
That's not to say you can't have your employees participate in a safety program. But if you make employees buy their own safety gear and you get some kind of financial kickback for it, you could find yourself in court.
HR BLR notes that Chipotle might have avoided its legal complications if it:
Reimbursed employees for their shoe purchases when it received money from the Shoes for Crews program.
Returned the $25,000 warranty money to its employees.
When in doubt about how you should handle the financial end of a safety and risk management program, seek legal help.
3. The road to court is paved with best intentions.
The Chipotle case also highlights that you can be liable for wrongdoing even when your heart is in the right place. Most people and courts commend a business that tries to improve worker safety conditions with a thorough risk management plan.
However, it's the details of that plan that can make all the difference, which leads us to our last point.
4. Working with an employment attorney upfront could save you headaches later.
When making business decisions (especially those in highly regulated areas like workers' comp), don't take risks. Work with a lawyer if you need help:
Deciding if employee financing for a risk management plan is legal.
Determining worker classification so you can adequately account for your workers' comp responsibilities (this may be especially handy if you do ongoing work with independent contractors).
Time upfront with a lawyer could save the hefty costs, headaches, and possible damages of being sued.
Compare quotes from trusted carriers with Insureon
Complete Insureon's easy online application today to compare insurance quotes from top-rated U.S. carriers. Once you find the right policy for your small business, you can begin coverage in less than 24 hours.