Why some contracts require small business insurance
Many contracts require that businesses hold some type of insurance coverage, such as professional liability insurance.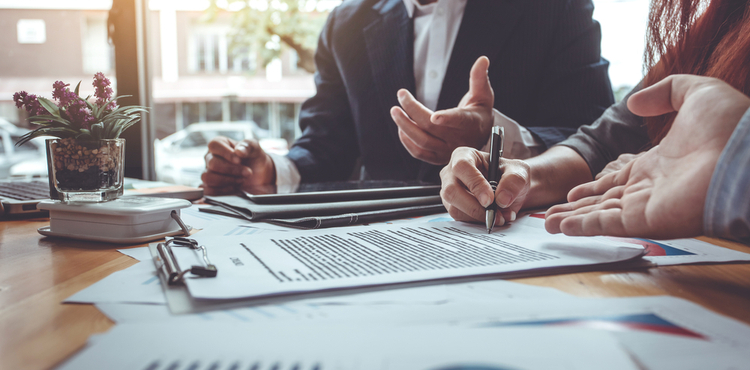 For most small business owners, landing a big client is a dream – until they find out the contract requires them to have commercial insurance they don't already have. That can force them to scramble for coverage or wave goodbye to an opportunity.
Requiring coverage like professional liability insurance in a contract might seem like an overreach, but it's actually a fairly common practice.
Andrew Legrand, founder of cloud-based law firm Spera Law Group, says business owners often require insurance in their contracts because they do not want to carry all the liability if there is a lawsuit.
"Most plaintiffs' attorneys are going to zero in on the party with the most insurance because they know that party will either sell or have the means to pay a judgment against them," Legrand says. "If someone you were working with does not have insurance, then your business could become the target of that lawsuit."
And it's not just a potential legal defense business owners and clients are worried about when they require insurance in a contract. Francine Griesing, founder and managing member of the law firm Griesing Law, LLC, says a legal action could end up resulting in a higher deductible, an increase in premiums, or having to pay for uncovered amounts for future policies.
Having insurance can also show potential clients that you take risk management seriously.
"It shows that the business you were working with follows solid business practices," Legrand says. "If that person doesn't have insurance, then what other advice are they ignoring?"
When do contracts require small business insurance?
According to Jeff Cassin, counsel at the corporate law firm Scarinci Hollenbeck, you typically see insurance requirements when there is a situation where one person has an obligation to protect the other. In those cases, he says the business owner wants "to make sure that the protection is backed up by insurance rather than backed up by something less substantial."
Cassin says insurance obligations may be required more frequently in some industries, like construction. As an example, he says to imagine hiring a plumber to solve a minor problem, but the installation doesn't go well and causes water damage. As the business owner, you want to make sure they're covered by insurance, he says.
A business owner may also require insurance when:
There is a risk of personal injury or property damage caused by a good or service. For instance, a retailer may want a manufacturer or distributor to have coverage.
Commercial space is leased. Commercial landlords often have tenants maintain a minimum amount of general liability coverage for claims that happen on leased property. (Related reading: "Why your commercial lease requires liability insurance.")
There is a contract to license technology. The business owner could want coverage in case there's an infringement claim or the technology malfunctions and causes harm.
While insurance requirements are common, not all contracts require insurance. Moreover, the type of coverage required depends on the situation.
"There are lots of different types of insurance out there," Cassin says. "So having a relationship with a good broker who actively tries to educate you on where your coverages are needed so you don't get too much or too little is important."
Compare quotes from trusted carriers with Insureon
Complete Insureon's easy online application today to compare insurance quotes from top-rated U.S. carriers. Once you find the right policy for your small business, you can begin coverage in less than 24 hours.