Uninsured restaurant ruined by next-door demolition
What would you do if rubble from a nearby demolition severely damaged your workspace? Learn how small business insurance can protect you against demolition errors.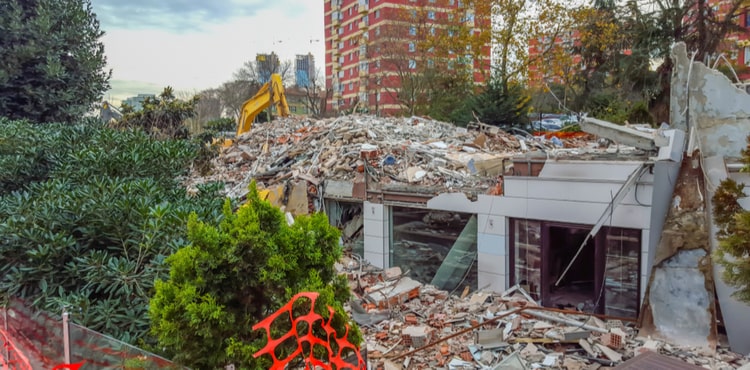 Sometimes, things don't go as planned. But when a demolition doesn't go as planned, it seems that everyone pays the price.
According to the news site MyCentralJersey.com, Maria Rosa's restaurant La Buenaventura was an unintentional casualty when the city hired a contractor to demolish the fire-gutted, abandoned building next door. The report states during the demolition, a common wall buckled and fell onto the restaurant's roof, which destroyed the restaurant Rosa had run for the last 32 years.
To further compound Rosa's predicament, the report notes:
Her restaurant was operating in leased space without business insurance.
She doesn't have any source of income while she scrambles to relocate her restaurant and get it running again.
Rosa requested that the Plainfield city council help pay for her relocation costs, but it maintains that the government can't make donations to businesses. Instead, she'll have to wait for the contractor's insurance to compensate her for her losses, and it may take years before that money reaches her.
What could have helped Rosa weather this unexpected and financially devastating storm? In short, adequate restaurant insurance.
Small business insurance: more than a formality
Business owners may sometimes forget the real function of commercial insurance. It's not just a contractual obligation – for many small business owners, coverage can be the difference between getting back on their feet and closing up shop for good.
In Rosa's case, having adequate insurance could have helped her in several ways. For example, let's say she had a business owner's policy, an insurance package designed specifically for the needs and budgets of small businesses. A BOP often bundles general liability insurance, property insurance, and business interruption insurance together at a discounted rate. This convenient policy could have helped Rosa because:
Property insurance can offer coverage for repairing or replacing her restaurant's interior and equipment, including fixtures, furniture, ovens, stoves, refrigerators, culinary utensils, and supplies.
Business interruption insurance can help pay for relocation costs and lost income when a covered property insurance claim temporarily shuts down the business.
In other words, insurance would have eased the financial uncertainty Rosa is experiencing. Though the contractor's coverage may reimburse her for her damaged property, it may not cover the income she lost while her business was forced to a standstill. If she had her own insurance, she could make a claim on her policy and get reimbursed for her various losses quicker.
Lessons learned: don't wait until it's too late
If this story offers one important takeaway for small food businesses, it's this: disaster can strike when least expected. In order to survive, you must plan ahead and be prepared.
Part of that preparation means investing in business insurance before you need it. Understand what your insurance can do and what it can't. At the same time, don't rely on another person's insurance policies to float you through a difficult situation. This is especially true if:
You lease commercial property. Rosa may have thought the building owner's insurance would cover her restaurant. However, most building owners only have coverage for the actual building, not its contents, which the renter must insure.
You partner with other businesses. Each party should have their own insurance coverage so that both interests are protected in case something goes wrong.
Compare quotes from trusted carriers with Insureon
Complete Insureon's easy online application today to compare quotes for food business insurance policies from top-rated U.S. carriers. Once you find the right policy, you can begin coverage in less than 24 hours.