5 Twitter accounts for insurance agents to follow
There's a huge amount of useful content for insurance agents on Twitter, which is great, but also intimidating for agents who don't know where to start. These five authoritative accounts will help you get oriented on the site.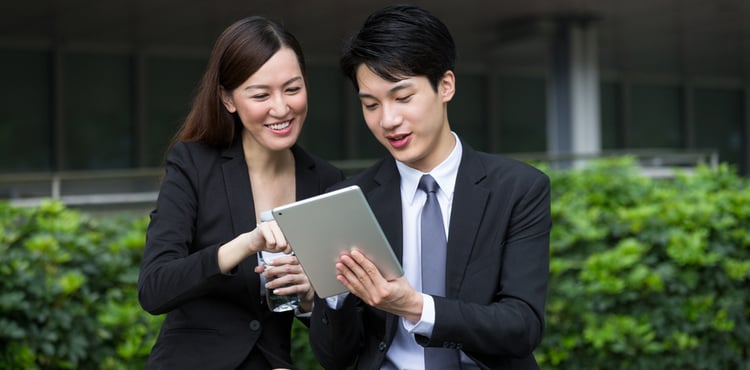 Life as an insurance agent can be pretty hectic. You probably spend at least part of your day outside the agency, meeting with clients or building your network. Even when you are in the office, applications and cold calling can take up most of your attention.
While all of that activity is good for building your book, it can make it hard to keep up with the latest industry trends. But that's why Twitter is so awesome. You get to pick what industry news comes to you, and it's right on your phone. Here are some Twitter feeds insurance agents might want to follow.
Insureon Solutions is an online access provider that lets independent agents sell products without the worry of direct appointments. But the main reason to follow @InsureonSol is to get notices about its most recent blog posts. Most offer tips on running an agency, but every once in a while, you'll see a post about weird and wonderful insurance industry facts.
Weird Insurance Facts Every Agent Should Know https://t.co/aHhwj1KASh #InsuranceFacts #Insurance #InsuranceAgents pic.twitter.com/IZH7Wox9UE

— Insureon Solutions (@InsureonSol) July 13, 2016
Most P&C agents read PropertyCasualty360 religiously, and for good reason. The online magazine gives agents access to breaking insurance news and relevant industry research in language that is easy to understand.
Without a doubt, the content is on point, but the volume can be overwhelming. When you follow their Twitter feed, you can choose the information that matters to you. Skim past the news about Warren Buffet's medical professional liability insurer and head straight to the insurance implications of PokemonGo.
Playing #PokémonGo? Here are 3 kinds of insurance you need https://t.co/eSjOrXawAX pic.twitter.com/js3ftqxmeH

— PropertyCasualty360 (@PC_360) July 20, 2016
Building your book is job number one, but in order to close the deal, you have to get your name in front of the right people. That's where Agent Link comes in.
The company offers industry-leading prospecting and marketing tools, plus an online publication with business growth solutions for insurance agents. The only downside here is its feed is not updated regularly. But when it is, you'll find gems like this:
Tips to Wow Your Prospects and Boost Next Month's Income https://t.co/c9Ubqx0HQ7 pic.twitter.com/3p4elH9npd

— Agent Link (@AgentLinkMktng) February 16, 2016
InsuranceSplash is another marketing resource for insurance agents, but this feed is very active with fresh and informative tweets. In fact, InsuranceSplash never seems to run out of ideas. Add it to your list for tips, strategies, and free resources, like its Insurance Agency Marketing Analysis tool.
Our Latest Free Insurance Marketing Tool for Agents https://t.co/9MSNt13q4K

— InsuranceSplash (@insurancesplash) July 19, 2016
The header photo on the Insurance Information Institute's Twitter feed reads, "Improving public understanding of insurance – what it does and how it works." That might make you think twice about following it, considering you already have a fairly good handle on the topic.
However, if you skipped this feed, you'd miss out on some interesting tidbits. Some may help you market to clients, like this heads up about disaster prep and safety. Others, like this one about driverless cars, help you prepare for the future.
Naturally, people want to know what this means to #insurance..., so we present: https://t.co/37Pl5r6dEs https://t.co/yVzPDKsI67

— Insurance Research (@III_Research) July 18, 2016
As long as you're picking up @III_Research, you might as well follow @iiiorg, too. The Insurance Information Institute sponsors both, but the latter may have a bit broader appeal, like this tweet about cybersecurity at the Republican National Convention.
I guess when your password for everything is "Trump," #cybersecurity kind of takes a backseat... https://t.co/tORLvK7XWR

— Insurance Information Institute (@iiiorg) July 20, 2016
Social media, liability insurance, and you
Despite all the good social media can do for your agency, it does come with some risk. For example, it makes it easy to put the first thought that comes into your head out into the universe. Tweet the wrong thing and you could be facing libel accusations.
That's where liability insurance comes in, specifically general liability insurance. As you may know, most general liability policies include coverage for advertising injuries, including:
Libel
Slander
Copyright infringement
Compare quotes from trusted carriers with Insureon
Complete Insureon's easy online application today to compare quotes for general liability and other kinds of business insurance from top-rated U.S. carriers. Once you find the right policy, you can get coverage in less than 24 hours.