The legal limits of written contracts for IT startups
Contracts are a crucial part of protecting your business from liability and other lawsuit risks, but there are limits to how much they cover. Find out more about IT contracts in terms any business owner can understand.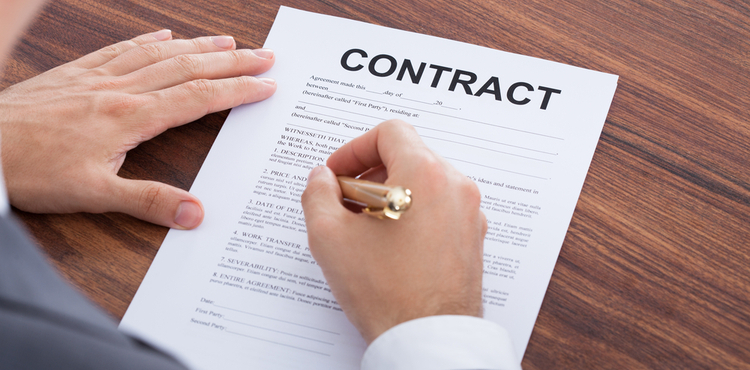 Contracts – you know they're a major part of protecting your business from IT professional liability and other lawsuit risks, but the legal protection they offer has its limits.
No contract can protect you from all lawsuits, and some contracts might not even hold up in court. If you don't have a legal background, don't worry – in this article we'll discuss IT contracts in terms any business owner can understand. In particular, we'll look at:
What contracts have to do with risk management.
Why some contracts aren't enforceable.
What you can do to protect your business from lawsuit risk.
Why contracts are an important risk management strategy for IT businesses
On our application, we ask customers questions about their risk management strategies, their use of contracts, and their small business insurance. To get an idea of what common practice is among small IT business owners, we looked at responses from more than 10,000 of these applications. The data revealed a few surprising things about IT businesses and their contracts:
13% of applicants don't use contracts with their clients.
12% don't include descriptions of their services.
13% don't have language holding them harmless for acts of a third party.
34% don't have a limitation of liability clause.
In other words, between 12% and 34% of IT insurance applicants don't take basic risk management precautions. And that's bad news.
While contracts aren't a perfect way to protect your business, they can offer some lawsuit protection. Because of this, they can also protect your business finances. For instance, by including a description of your services you can avoid miscommunications with clients about what is and isn't included with your work. That can protect you from an expensive client lawsuit down the road (a lawyer is less likely to advise legal action if there isn't a solid case). In the event that a client decides to sue, a description of services clause can help the court rule in your favor.
But as we said at the outset, contracts aren't flawless. They can't protect you from all lawsuits. It's important to understand their limitations, so let's look at a few situations where IT contracts might not be enforceable.
Too good to be true? Uber's new requirements for contractors
According to the contractor agreement drivers sign, any disputes the drivers have must be taken to a third-party arbitrator that charges $7,000 per day (plus a $5,000 retainer fee). This contractual requirement may be a way of preventing drivers from suing Uber – it forces small contractors to pay big costs upfront, which may discourage them from taking legal action.
Because of these prohibitive costs, this may be the kind of contract that wouldn't hold up in court. A judge could conceivably rule that a contractor is allowed to sue Uber. And Uber may still be exposed to risk.
IT businesses and non-compete clauses – what you need to know
HR Examiner examines non-compete clauses – a common issue in the IT contract. Non-compete clauses restrict employees from leaving your company and working with a competitor. But as HR Examiner reminds business owners, in reality, they may not be able to prevent their workers from jumping ship for a competitor.
As the article points out, state law determines whether a non-compete clause is legal. And usually, it's the employee's state that determines this legality. Some states, like California, actually prohibit most non-compete agreements, giving workers more freedom to take their skills elsewhere. But others like Alabama let employers enforce stricter non-compete restrictions.
Three things to know about business contracts (and protecting your IT professional liability)
We keeping saying it: a contract isn't a perfect risk management solution (that's why IT businesses still get lawsuit protection through errors and omissions insurance). But a good contract can help. So here are three things you should take away from our discussion:
With 12% to 34% of IT businesses not taking basic precautions in their contracts, it's important to use an IT contract customized for your business and written / approved by an attorney.
There are limits to what your contracts can say ­­– non-compete clauses and overly restrictive requirements might not hold up in court.
When a contract can't protect you, errors and omissions insurance may cover the cost of a lawsuit if a client sues you over problems with your work or blames a vendor's shortfall on you.
Compare quotes from trusted carriers with Insureon
Complete Insureon's easy online application today to compare insurance quotes from top-rated U.S. carriers. Once you find the right policy for your small business, you can begin coverage in less than 24 hours.