The business trip checklist for freelancers and small business owners
Meeting face-to-face with out-of-town clients is a powerful tool for building relationships. This checklist will help you get the most out of your business trips.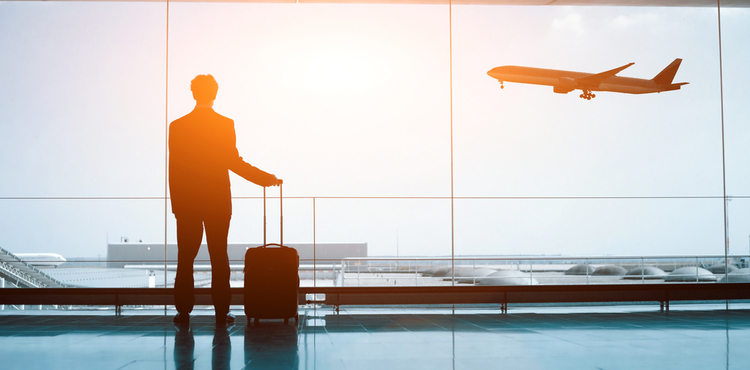 Honest-to-goodness face time (the kind you can't get on your iPhone) is a powerful tool when it comes to building relationships. Unfortunately, meeting with out-of-town clients also takes you away from your daily operations.
That doesn't have to be a scary thought. Use this checklist to prep for your trip so it's productive and lucrative.
1. Download an app for your receipts
According to certified public accountant Amy Northard, you can deduct 100% of some expenses you incur while on the road, including…
Airfare
Luggage fees
Cab or car fare
Mileage when you drive
Parking fees
Tolls
Laundry
Dry cleaning
But save your receipts!
"The IRS allows you to use digital copies of receipts, so I would recommend getting an app on your phone," says Northard. "A lot of the bookkeeping programs have apps connected with their software, like QuickBooks and Xero. You can just take a picture with your phone and link it to your bookkeeping."
If you don't have already use bookkeeping software, Northard suggests downloading a standalone app, like Expensify or Shoeboxed, that lets you photograph and categorize your receipts and then export a report at the year's end.
"Once you take the picture, you can toss the receipt, but I like to keep paper copies as well, in case that system fails for whatever reason," Northard says. "I always keep a zippered pouch in my purse or my travel bag and just stash everything in there."
Money-saving tip: The IRS only lets you deduct 50% of meals on business trips. However, Northard says you can either track receipts or use the per diem rate the IRS allows for the area. Sometimes the per diem rate gives a bigger deduction. Try plugging in your travel city at the GSA per diem calculator.
2. Prep your employees
Perhaps the scariest part of hitting the road is leaving your business in the hands of your employees. But personal productivity expert and creator of the P10 Productivity Accelerator Program Penny Zenker says it's a great idea to let your people handle problems: "If small business owners take themselves out of the problem-solving role, people will rise to the occasion."
Preparing your staff can go a long way toward helping them rise, so she suggests that you…
Set up escalation procedures.
Define any other critical business process and assign responsibilities.
Review any concerns with the team before you leave.
Delegate tasks, and identify the expected outcomes and milestones.
Sanity-saving tip: Maura Thomas, founder of management and productivity training company RegainYourTime, says setting an out-of-office message on your voicemail and email may allow you to focus more on your trip. But she suggests adding one day before and after your actual travel dates to give yourself some breathing room.
She says, "If people hear back from you before they expected, that will be a pleasant surprise."
3. Schedule every activity
Ray McKenzie, principal and founder of the consulting group Red Beach Advisors, recommends putting all activities on your calendar. That includes…
Staff meetings
Sales calls
Independent work time
Business meetings
Meals
Workouts
According to McKenzie, this lets you focus on the specific activity without much conflict and lets your staff know if you're available.
Sanity-saving tip: "Give yourself permission to relax. I find traveling is one of my most productive times because I have left the office behind," says Zenker. "I use this time for critical thinking, business development, and even relaxation time. That isn't downtime. It is purposeful recharging."
Productivity is important wherever you are. Get ideas for staying on top of your schedule in "14 essential time management hacks for freelancers."
4. Look for bonus business
Michael Mehlberg, cofounder of the business development membership site Modern da Vinci, thinks small business owners can maximize their travel by contacting people in the area that they've been meaning to connect with.
"Let them know you will be in town for a short while and it would be great to meet up for coffee, lunch, whatever," Mehlberg says. "They will be glad you connected, and you will feel like a rock star for getting more done than you had previously planned."
Revenue-building tip: Social media may be your networking lifeline when you're an out-of-towner.
"Check in on Meetup.com, Facebook events, Eventbrite, and even Twitter for networking opportunities outside of your immediate network while you're traveling," says Mallie Rydzik, CEO of the consulting group Mydzik. "Post social media updates to let people know where you are and ask for an opportunity to grab coffee."
5. Make sure you're protected
Hopping in your car may seem like the most convenient way to go, but you might want to check your auto insurance. Most policies exclude business travel, so the cost of an accident could come out of your pocket. Instead of risking it, consider purchasing commercial auto insurance.
Rental cars are another concern. Your personal auto insurance might cover damages if you wreck a rental, but you may want to check that before you go, too. If it doesn't, consider hired and non-owned auto insurance.
Money-saving tip: You can purchase hired and non-owned auto insurance as a standalone policy, but many small business owners opt to add it as a rider to their general liability insurance. That usually helps keep costs down.
Wondering if the property in your car is safe? Find out in "Where your business property is and isn't covered, according to your insurance."
Compare quotes from trusted carriers with Insureon
Complete Insureon's easy online application today to compare insurance quotes from top-rated U.S. carriers. Once you find the right policy for your small business, you can begin coverage in less than 24 hours.