When employees test positive for COVID: steps to keep your business safe
No small business is immune from an employee contracting COVID-19. Learn how to protect workers, the public, and your bottom line.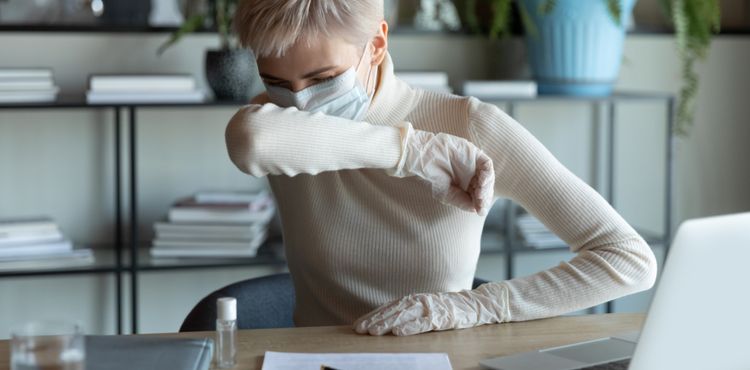 Businesses have taken nearly every precaution imaginable to combat coronavirus infections. But with the spread of COVID-19 and its variants continuing to affect the population, an employee may become infected despite your best efforts to flatten the curve.
If any of your workers test positive for the virus, let these steps guide your response.
Require infected employees to stay at home
Employees who have a positive COVID-19 test may have had severe symptoms that prompted them to seek medical care. Or they may have no symptoms of COVID-19 at all and received a test for other reasons.
In either case, don't allow infected individuals to interact with other co-workers or customers.
The Centers for Disease Control and Prevention (CDC) recommends that Americans who test positive should self-isolate for at least five days, even if they don't feel sick. After their fifth day of home isolation, if the person is fever-free for a 24-hour period (without the use of fever-reducing medication), CDC guidelines advise them to take precautions such as wearing a face covering, avoiding travel, and social distancing from high-risk individuals for an additional five days.
If an infected person is unable to perform work-related functions while following this isolation guidance, this reduction in hours may qualify you for partial Unemployment Insurance benefits in some states. Please contact your state workforce agency for more information. However, those who are well enough to telecommute are unlikely to be eligible for these benefits.
As you take these initial steps, be sure to immediately report the case to your local health department, as well as other staff members.
Notify employees that a colleague has tested positive
As a business owner, you must inform employees that they have been in close contact with a coronavirus-positive worker. Federal laws prohibit you from revealing the infected employee's identity to other workers.
CDC guidance advises that any employees who have not received a COVID-19 vaccine or any customers who have recently been in contact with a confirmed COVID-19-positive individual also quarantine for five days, and then get tested after their fifth day of isolation. If the close contacts have been vaccinated and are not symptomatic, the CDC only recommends that they get tested after five days and do not need to isolate during that time. All close contacts are advised to self-monitor their symptoms until 10 days after their last exposure to someone who tested positive for COVID-19.
In such cases, staff members will likely express concern about their own health and request testing information.
Offer employees resources for COVID-19 testing
The CDC recommends contacting a preferred healthcare provider or state and local health departments if workers need COVID-19 tests.
At the time of this publishing, shortages and delays of test kits remain, although early in 2022, the U.S. federal government approved the distribution of four free at-home COVID test kits for every home address in the United States (a max of one order with four tests per eligible address) from the USPS. If you or your employees have not already placed an order, they can find more information on ordering their free kits at covidtests.gov.
In some locations, public testing sites may still be available at various location. Check your local listings or the U.S. Department of Health & Human Services webpage for more information on where to find a testing location near you.
Public health authorities in some regions are prioritizing tests for those who need them most. Let your employees know this includes:
healthcare workers
first responders
older Americans
people with pre-existing medical conditions
those who have recently traveled to outbreak hot spots
Employees who had a negative test before could still contract the coronavirus in the future. Encourage everyone to consider testing, and help in any way you can.
Sanitize and deep clean your office
If an employee tests positive, deep cleaning your office is a must.
Businesses should follow the CDC's guidelines by sanitizing and disinfecting frequently touched surfaces such as:
countertops, desks, door knobs, and faucet handles
computer keyboards, phones, tablets, and touch screens
less obvious devices such as remote controls and ATMs
A clean workspace will help employees feel safer as they return to the office.
Ensure the sick employees' duties are covered
Cross-training and business continuity plans have become more important than ever. But even the best-laid contingency plans may not work as planned during a pandemic.
If your healthy employees can't cover the workload of their infected or quarantined colleagues, you may have to explore new options.
Depending on your business, contractors and freelancers could help. Companies like TaskRabbit, UpWork, Fiverr, and Toptal let you choose workers for one-time, recurring, or full-time jobs.
Even with a different labor force, your business can be held liable for the actions of these workers. Depending on your industry, you might require that temporary employees carry general liability, professional liability, commercial auto insurance, or other business policies.
Contact your insurance provider to learn about your options and possibly file a claim
Workers' compensation insurance may cover lost wages and medical bills for employees who test positive. This coverage may also pay for lawsuit costs if an infected worker sues you for negligence.
Employees who file a workers' comp claim must prove that they were infected while performing essential job duties in the office or remotely.
If an employee tests positive for COVID-19, your insurance agent should be able to help with your state's laws and the workers' comp claims process.
As far as lost productivity is concerned, business interruption insurance typically won't cover your company's losses if employees can't work due to COVID-19.
The pandemic will have a lasting impact on how businesses protect themselves going forward. And insurance will always play an important part in that.
If you'd like to better understand what coverage you may need to make sure you're protected, we're here to help.
Our online agency lets you compare insurance policies and quotes from top insurance companies. And our friendly, knowledgeable agents can answer any questions specific to your needs and your industry to help you find the right coverage.

Complete Insureon's easy online application today to compare quotes for business insurance from top-rated U.S. carriers. Once you find the right policy for your small business, you can begin coverage in less than 24 hours.