Small Business Spotlight: Prepping for the holidays with Ruffit Dog Carriers
Ruffit Dog Carriers allow you to bring your small dog along with you, making daily activities more fun. Adelaida Diaz-Roa, COO, gives insight into the company's efforts to market and prepare for the holidays.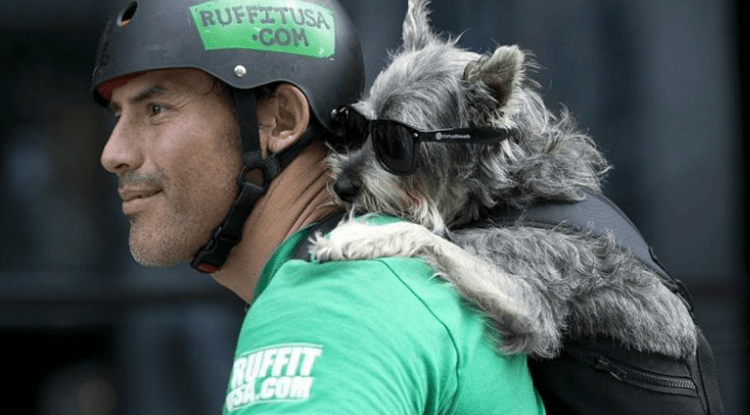 Adelaida Diaz-Roa is COO and co-owner of Ruffit Dog Carriers. Based in Texas, Ruffit Dog Carriers makes forward-facing dog backpacks with the goal to enrich the relationship between you and your pet.
We talked with Adelaida about her experience prepping Ruffit Dog Carriers for the upcoming holiday shopping season. Learn how small-business owners can prepare for the holiday rush and avoid unnecessary mayhem. The transcript below has been lightly edited for length and clarity.
Tell us a bit about yourself. What's your background?
I'm a 23-year-old Colombian that loves puppies and startups. Ruffit Dog Carriers is now my third startup. I started working with startups my freshman year at Southern Methodist University. I learned a lot through that experience and then started a dog hotel in Dallas called Pawliday Inn.
While working at Pawliday, I met Jonathan and joined the Ruffit team back in January. I truly love it; I use the product on a regular basis, and I know the market very well. My skills complemented the skills that Jonathan has, so it was a great match for us to work together.
When did Ruffit get its start?
Ruffit started two years ago when our founder, Jonathan Rivera, was biking with his small pup Mojo. Mojo cut his little paw pretty badly so Jonathan had to find a way to get him to the car as fast as possible. He pulled his shirt over his head and used it to carry Mojo on his back while biking back.
Since that day, he started researching ways to make daily activities – like biking – more safe, comfortable, and fun with your small pup. And that's how Ruffit Dog Carriers began.
Where did you recognize the need for a canine carrier?
We recognized the need for this product in bikers that had small dogs. It's very difficult to bike with your pup, even in a basket. From there, we started targeting other people based on what our clients were saying and doing with them.
Its second biggest use is during long hikes. Most small pups tire very quickly and taking them on a long hike can become very complicated. Our carriers allow customers to not only give the dog a break, but also allow the customer to keep going. Other great uses are travel, crowded events, and shopping.
What sets you apart from companies with a similar product?
Our carriers allow a 360-degree view for the pup to help them get rid of any anxiety. The dogs are also in the carriers in a very comfortable and natural position (sitting). It's also very safe no matter how you move.
What is your sales strategy for most of the year? How does it change around the holidays?
Most of the year, we do regular Facebook, Twitter, AdWords, and AdRoll ads.
For the holidays, we will be launching a discount campaign and pushing a more "Gift This" campaign instead of "Buy This for Yourself." We will also have contests and discounts building up for the holidays.
How has your approach adapted from past experience?
When we first started, we mainly relied on local Dallas events. Then we moved into national trade shows. From there, we started getting media attention, and we realized what a big difference that made, so we were spending less time on trade shows and more time on PR.
At this point, we don't do any more trade shows as we've discovered the return isn't as great as other efforts. We do sell at trade shows, but not enough to make the time and expenses worth it. Just recently, we began experimenting with online ads and those are paying off big time. So I would say just in the past few months our strategy has made a complete 90 percent change.
What continues to work?
Something that has worked wonders is every time we get a TV appearance. Our sales skyrocket. When our appearance is shared on a network's social media and websites, it trickles for months after. We still get sales from one of our local smaller segments from about 18 months ago.
Another positive has been Twitter and Facebook ads. Those are graphic, and graphics go a long way with our product.
Setting up an affiliate network with LeadDyno has worked great. And lastly, setting up abandoned checkout emails has recovered quite a few sales for us.
How does your preparation for the holidays begin?
We begin by planning out the schedule of our posts and the sales/specials we want to have. From there, we work on the graphics for the marketing and the posts to promote the sales. We also set up a budget for each day and a performance matrix to decide if we should increase the budgets or not as we go.
How do you evaluate your inventory?
We look at all past orders and come up with a percentage of popularity for each size. Then we estimate an increase in regular orders based on the previous year and order ahead of time. We also let our manufacturers know we may need them to have a few extra units ready for us as we near the holidays.
How do you ease concerns for customers worried about online shopping security?
We use Shopify for our online store, which is very popular and lots of customers trust. It has all of its policies written out for our customers. Highly recommend the platform for small e-commerce businesses.
Tips from Ruffit Dog Carriers on Preparing for the Holidays
Prepare early. Prep all holiday promotions ahead of time. This includes graphics for the website, graphics for ads, and any social media posts.
Stock up. Carry as much inventory as possible; if you run out, keep selling but let people know how long they should expect to wait.
Get creative. Try different ways to reach customers beyond traditional means.
Compare quotes from trusted carriers with Insureon
Complete Insureon's easy online application today to compare insurance quotes from top-rated U.S. carriers. Once you find the right policy for your small business, you can begin coverage in less than 24 hours.