Small business spotlight: Over the years with Three Brothers Bakery
"Memory makers who happen to be bakers" is a fitting tagline for this family-owned business. Fifth-generation co-owner, Bobby Jucker, shares his experience.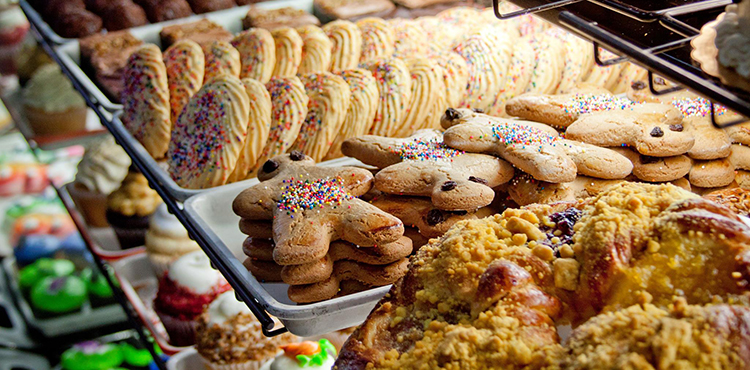 Bobby Jucker is a fifth-generation baker and co-owner of Three Brothers Bakery. Located in Houston, TX, Three Brothers Bakery has been making sweet treats and memories since 1949.
We talked with Bobby Jucker about his experience working at the bakery with his wife Janice and Aunt Estelle. Learn how small-business owners can help their business grow and adapt over multiple years – maybe even decades. The transcript below has been lightly edited for length and clarity.
Tell us a little about yourself. What's your background?
I am a fifth-generation baker with a formal educational background in petroleum land management from the University of Texas, but the oil boom went bust when I got out of school. The bakery needed another person, so I came aboard and realized it was where I truly felt at home. The bakery has come to mean so much to me, having grown up learning the trade from my father and uncles.
When did Three Brothers Bakery gets its start?
Our bakery began in the United States in 1949 with my father and uncles. The sixth generation is currently in school and just growing into their own endeavors. We would love to see a sixth generation and hope they find the same home in the bakery as we have.
How did the bakery's European roots influence the business over the years?
The bakery's history began in Poland, and we are still an Eastern European-style bakery using these same recipes from 200 years ago. The European influence is in our more traditional daily items, such as our challah and rye breads, hamantaschen, and gingerbread men. Over the years, we have maintained the same processes, recipes, and quality ingredients from the "old country."
What sets you apart from other bakeries?
Aside from Three Brothers Bakery, there are only one or two other full line bakeries making a living as bakers in Houston. We create the entire line of baked goods all from scratch each and every day. It is difficult to find bakeries that are using the same quality of product and ingredients we are.
Additionally, we are, and always strive to be, a part of the lives of our customers through their memories. Our tag line is "memory makers who happen to be bakers," and it is truly something we treasure.
What motivated your family to stick with the business?
When the three brothers first came to Houston following their liberation, they were doing what they knew how to do – bake. They wanted to give their children everything that was taken from them in the Holocaust, and they worked day and night to make sure the bakery was thriving. Tradition is very important to our family, and each generation has felt a connection and a desire to continue with the legacy.
Who runs the business now? How do you split responsibilities?
My wife Janice and I say we run it. But really, we have an incredible management team, and Janice says we work for them.
I am the hands-on person. I can do everything in the bakery – mix, bake, decorate, wash pans, wait on customers, etc. Janice is more on the business side. She is responsible for our PR and marketing, the website, the online store, and customer service elements.
We all work together on the strategic side to keep things moving and growing. There are so many bakeries today, and staying successful is about good products, but you also need to figure out how to get folks in the door or to your website.
How has the business adapted to change?
When my father and uncles started the business, there was only one competitor, which is still in business. Today, it seems like there is a competitor on every block. In the early years, bread was what brought in the customers, but today it is the cakes, pastries, and custom work we do.
From a business point of view, back then the big technology expense was a telephone. Now we have telephone systems, data equipment, computers, website, online store, shipping and packaging, social media, and tomorrow, it will be something else.
How has your business weathered the years?
One of the most valuable lessons we have learned is the importance of good insurance. We have been hit by three disasters in 15 years. In 2001, in the wake of Tropical Storm Allison, we had no insurance and it cost us $100,000 to repair the damages and reopen. When Hurricane Ike hit in 2008, we were closed for nine months. We rebuilt, paid our employees, and reopened, growing to three storefronts and an online store. In May 2015, we flooded again, but this time we had flood insurance.
When we speak to entrepreneurs in the early stages of their business, we do stress the importance of insurance. Our insurance plan has made all of the difference in the bakery's ability to thrive.
What does it mean to be a staple in the community?
With 65 years under our belt in Houston, the communities around our bakeries have grown to become our extended family, and we strive to give back whenever we can.
It is an important honor. When we closed for nine months because of Hurricane Ike, every day people came by the bakery – every single day – to see how they could help and for an update. A young boy even sent us money from his piggy bank. We had to come back for all of these people who meant so much to our business and family.
My wife is a breast cancer survivor and looks for ways to help women facing a diagnosis, offering her support, and oftentimes, women stop at the bakery to tell her about their diagnoses, even before they tell their spouses. We are like the bartender in your favorite local bar – not only are we here for the good times, but the bad as well.
Tips from Three Brothers Bakery on running a family business
Keep your emotions in check
It's a business; run it like a business.
Work on – not in – your business
Even if you don't want to sell in the long run, build it to be sold.
Invest in extras
Spend some money on PR and marketing. It isn't necessarily always the case that if you build it, they will come.
Be charitable and involved
Share your good fortune with your community. It definitely comes back to you and strengthens your connection to your customers.
Compare quotes from trusted carriers with Insureon
Complete Insureon's easy online application today to compare insurance quotes from top-rated U.S. carriers. Once you find the right policy for your small business, you can begin coverage in less than 24 hours.