Small business spotlight: Combat to career with VetLaunch
Many veterans want to start their own businesses, but aren't sure where to start or don't know what types of resources are available to them. In this interview, VetLaunch CEO Robert Armbruster talks about how veterans can find success in business after returning from active duty.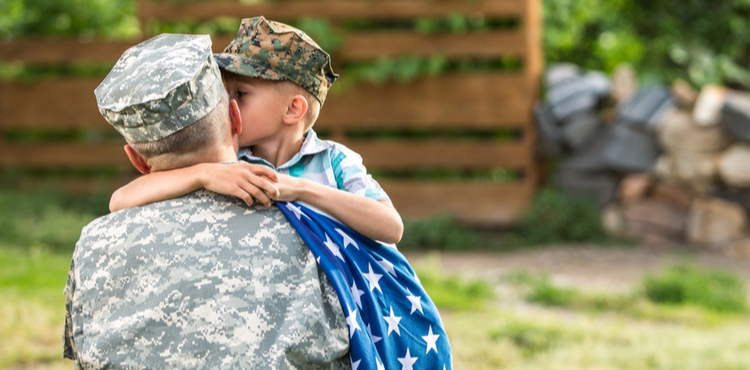 Robert Armbruster is founder of New Orleans-based VetLaunch (@VetLaunchNola) and Landing Zone (@LZNOLA). VetLaunch is a 501(c)(3) nonprofit organization devoted to providing veterans with the resources to effectively make the change from military to civilian life.
We talked with Robert Armbruster about VetLaunch's mission to provide job training and job placement assistance for veterans in various industries. Learn how VetLaunch helps veterans develop the skills they need to become successful small business owners. The transcript below has been lightly edited for length and clarity.
How did VetLaunch get its start?
I graduated from the US Naval Academy in 1997, and I medically retired as a Marine Corps captain in 2004 after being injured conducting combat operations in Iraq.
I decided to start my own home renovation business while I was still on active duty. After I retired from service, my wife Nicole and I gave real estate and construction development a go. We've successfully run several businesses in multiple industries in New Orleans.
Then we started working with a local group of veteran-owned businesses to help combat veterans that were transitioning out of the Marine Corps. That's when I got the idea for a business program that is managed by, supported by, and for veterans.
How does VetLaunch help veterans transition from service to a career?
VetLaunch offers business startup help and job training and placement. We have a large facility with a gym, conference rooms, and a resource center. We help any veterans that come to us; we won't turn anyone away. We're creating a private network of vets helping other vets.
We take job descriptions from companies and put a vet that's a good fit into a reintegration program for open positions. Depending on the job, we'll help them get the right certifications, such as OSHA compliance in construction or a ServSafe certification in food services or hospitality.
We'll also sit down with vets and go through financial literacy training. When you're a young, junior service member, a lot of things are taken care of for you while you're active – housing, balancing a budget, dealing with life skills. You can't make the decisions for yourself. It's always an adjustment. We teach them to alter their mindset and learn how to deal with people differently when they're no longer wearing a uniform.
How does the business accelerator program work?
This is our second year running the business accelerator program in New Orleans. It's an 11-week program that ends with a pitch event at New Orleans Entrepreneur Week. Vets come in once a week to meet with our entrepreneur residents. One of our residents, Lisa Lloyd (@icaninvent), president and CEO of Lloyd Marketing Group, founder of InvenTank, and a Shark Tank alum, shares her marketing and patent background with program participants.
They also meet once a week as a group, hold panel discussions, and listen to speakers on different topics (e.g., legal, marketing, accounting, starting a business, etc.) We help each participant develop individual business model paths and determine where they should be at the end of the program. Vets are assigned a financial, legal, and business mentor to help them through the program.
In order be eligible for VetLaunch's Business Accelerator, veterans must meet requirements listed on the website and complete an application.
What are your future goals?
An 11-week business accelerator program is long – not everyone can commit that sort of time. We're developing shorter, five-day boot camps for next year, with one longer 10-week program as part of New Orleans Entrepreneur Week.
Currently, we're just limited to the New Orleans market. It's difficult, but we'd like to develop a new program to help vets outside of city with a four- to five-day period consisting of an intense 10-hour day boot camp.
How does a military background help veterans run a business?
Veterans have organization, perseverance, leadership, and operations management skills. Generally, a lot of vets in the last 15 years have served in conflict; most vets have seen one or more combat deployment. You can't replicate those experiences in training. Compared to that, starting a business is nothing. That high level of responsibility carries over to running and operating a business.
Can you share a veteran's success story from working with VetLaunch?
From our first year, a former Navy helicopter pilot Jeff Widenhofer (@madjacmusic) has enjoyed success. He's a musician and composer, and he has an album, SOLIDMAN, coming out soon. The album is about the deep-rooted personal experiences of Jeff and his partner Chris Irwin, a former Navy SEAL.
Our second group yielded a successful husband-wife team working to franchise their business NOLA Poboys. Six months ago, it was a concept. Last month, they opened a franchise at the Houston Astros' Minute Maid Park. Currently, there are plans to open 21 stores over next two years. We helped them get to that point, and they still work out of our building. It's been our biggest scalable success.
How can people help or get involved with VetLaunch?
We are always looking for sponsors and business mentors to donate time and skill sets. Donations help, of course. If people know any vets that need help transitioning, send them our way.
What three career resources do you recommend for veterans outside of New Orleans?
Unfortunately, many vets may not have heard about the resources available to them. We're working on getting the word out about the numerous programs that can help them start a business:
Check local resource centers
SCORE, the US Small Business Administration, and other organizations offer free training and workshops.
Research colleges that offer entrepreneur programs
Syracuse University runs the EBV National Program, a nationwide initiative designed to offer skills and entrepreneur training to post-9/11 veterans with service-connected disabilities.
Find a think tank or business incubator program
Local programs like VetLaunch in New Orleans and Bunker Labs in Chicago offer valuable entrepreneur educational resources.
We want to educate vets that are coming out of service that they don't have to follow the "normal" route. I don't think I would have been very successful working in a corporate environment. Younger vets especially don't feel at home in a cubicle surrounded by people with dissimilar life experiences. It helps them knowing we're combat vets, too.
Compare quotes from trusted carriers with Insureon
Complete Insureon's easy online application today to compare quotes for business insurance from top-rated U.S. carriers. Once you find the right policy, you can begin coverage in less than 24 hours.