Small business spotlight: Changing lanes with Royce Leather
Small businesses are handicapped in ways larger businesses are unfettered, but Royce Leather's example of pivoting its business model can provide some insight into discovering new opportunities for growth.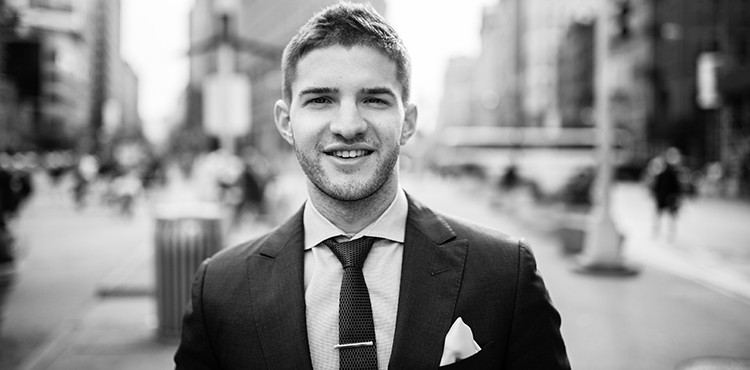 Billy Bauer is the managing director of Royce Leather in Secaucus, New Jersey. He shares the day-to-day business operations with his brother Andrew Royce Bauer, CEO. Royce Leather manufactures handmade accessories for men and women, a range of products including wallets, card cases, travel accessories, bags, and luggage.
We talked with Billy Bauer about the transition of Royce Leather from an ordinary luggage and accessory manufacturer to a producer of GPS-tracking luggage and RFID-blocking wallets and cases. Learn how small business owners can recognize opportunities for growth through a business transition. The transcript below has been lightly edited for length and clarity.
What's the story behind Royce Leather?
As the son, grandson, and great-grandson of prominent Austrian leather craftsmen, leather has been my calling since the day I was born. Quite literally, my crib was lined in premium calfskin leather! Since the age of 16, I have been working for the company. I worked seven years of brutal 60-hour weeks, earned an economics degree from McGill University, and received a master's degree in marketing from HEC Paris. Royce Leather and the Bauer family have a rich history of artisan leather craftsmanship, a practice brought to the United States in 1974 by my father, Harold Bauer.
What indicators suggested it was time to move away from selling traditional luggage?
The increase in security consciousness and the tightening of airlines on luggage – catalyzing the need for more lightweight and small carryon items – meant the death of traditional luggage and the birth of tech-savvy consumer protection travel accessories.
What made GPS tracking luggage and RFID-blocking wallets an attractive switch?
In a post-9/11 and WikiLeaks world, there is an increasingly growing Orwellian fear of identity theft and personal security. In recessionary times, there is a strong correlation with rising theft. With the proliferation of RFID (radio-frequency identification) chips embedded in driver's licenses, passports, and credit cards, RFID scanning theft amounts to over $1 billion in personal losses annually.
How did you make a successful transition?
It was a daunting task to change our suppliers, distributors, and teach our sales force. However, through pivoting, we were able to reinvent our unique selling proposition so that the failure of the company's initial idea – well, not failure, but obsolescence – did not become the demise of the company as a whole.
When did you begin to see a real change in revenue or customer attention after the switch?
We did $5.5 million in revenue last year and got onto the 2014 Inc. 5000 list for top growth. We are growing at an exponential pace and retailers have taken notice. Almost every major big-box retailer and department store in the United States and Canada now distributes our product.
What was the response like from the public?
They loved it! We were featured across media outlets, including NBC's Today Show, The Los Angeles Times, Glamour, NY Daily News, and Inc. Magazine within weeks of launch. With customers, the idea was rather intuitive so it did not take elaborate explaining. Our competitors? No one has yet to copy us, so we are currently thriving in an uncontested market.
How do you evaluate the transition?
It's not just startups that are agile, flexible, and opportunistic – we prove that an old dog can learn new tricks by vastly reshaping our business model and garnering the highest profits in the company's 40-year history.
What's your advice for other small businesses struggling with direction?
Unlike a large profitable company, small businesses are constrained by their available cash. If it cannot find a profitable and scalable business model, it will go out of business. This means owners must continually be looking to see if they need to find a better model. If they believe one is necessary, they cannot hesitate to implement change. The search for a successful business model might require even a small business with a substantial history to make multiple pivots. Sometimes, it will merely be small adjustments, and other times, it will necessitate major changes.
As a small business owner, you need to prepare yourself to think creatively and independently because more often than not, conditions on the ground will change so rapidly that your original, well-thought out business model will quickly become irrelevant.
Compare quotes from trusted carriers with Insureon
Complete Insureon's easy online application today to compare insurance quotes from top-rated U.S. carriers. Once you find the right policy for your small business, you can begin coverage in less than 24 hours.