Small business insurance for a windy day
Insurance claims related to wind and hail damage are the third most common among small business policyholders.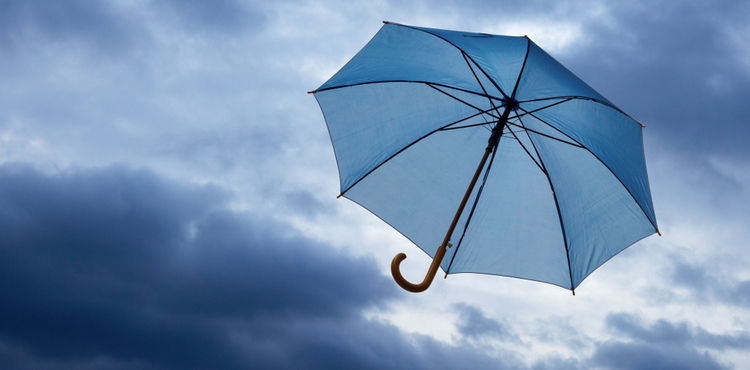 Among the things that can go wrong at a small business, wind may not seem like a major concern. But according to a 2015 study by small business insurance provider The Hartford, claims from wind and hail damage are the third most common among small business policyholders. On average, the study notes, these claims cost $26,000.
Obviously, most small businesses don't have $26,000 sitting in their bank account that they don't know what to do with. What really matters, though, is what you'll do if a windstorm or hailstorm hits your business. Will your insurance cover the claim?
Commercial property insurance and wind or hail damage claims
Commercial property insurance may cover wind and hail damage claims, but as with anything in the insurance world, the details are everything. For example…
In much of the country, coverage for hail and windstorm damage is standard on a commercial property insurance policy.
In coastal areas exposed to hurricanes, wind and hail damage are often excluded from a standard insurance policy. Small businesses have to purchase separate coverage for these exposures.
From a risk management perspective, this makes sense: small business insurance providers must minimize the chances that a single wind or hail event will wipe out all of their financial reserves. If it did, they wouldn't be able to offer coverage for future events and everyone would be worse off.
Percentage deductibles in small business property insurance policies
One way small business insurance providers sometimes manage the risks posed by wind damage is to offer policies with a percentage deductible. In other words, the deductible for any given event is a percentage of the total damage, rather than a fixed dollar amount. In practice, this forces small businesses to self-insure up to a certain amount, thus moving some of the risk away from the carriers and onto the businesses.
With a percentage deductible policy, the insurance provider doesn't offer any funds until the policyholder has covered the first X percent of the total damages. As with any type of small business insurance, be sure to consult with your agent to make sure you understand what kind of coverage your policy offers and what you're expected to do in the event of a claim.
4 ways to reduce your risk of wind and hail damage
While small business insurance is essential to helping a business recover after a serious wind or hail storm, there are risk management measures a business can take to minimize the likelihood and potential cost of damage. These include the following:
Examine the roof of your building each spring (at the start of storm season) and after any severe storm to check for damage. Finding (and repairing) damage when it's minimal is a good way to prevent large-scale damage from leaks.
Upgrade impact-resistant windows to prevent shattering and related damage.
Secure outdoor equipment and valuables when storms are predicted. Store non-water-resistant equipment and inventory so that it's unlikely to be impacted by leaks or flooding.
In the event of a storm during business hours, know how to keep yourself and your employees safe by staying away from windows and in a storm shelter, if possible.
Compare quotes from trusted carriers with Insureon
Complete Insureon's easy online application today to compare quotes for property insurance and other policies from top-rated U.S. carriers. Once you find the right policy for your small business, you can begin coverage in less than 24 hours.