Small business activism: Is taking a stand worth the risk?
Small businesses shouldn't jump into the fray in this divisive political climate without careful consideration.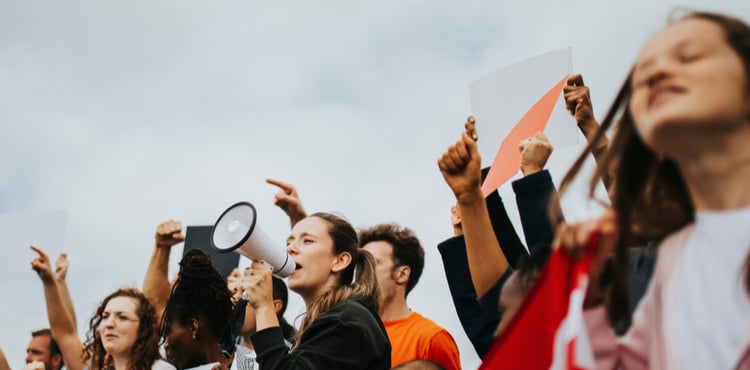 CEOs of big businesses get mixed up in political matters all the time. Some find themselves accidentally in the middle of an uproar. But others purposefully jump into the fray, like Starbuck's CEO Howard Schultz who announced plans to hire 10,000 refugees in the next five years.
Can a small business afford to take a stand in this divisive political climate? According to these experts, sometimes you can't afford not to.
The business benefits of taking a stand
As the social mission and activism manager for Vermont-based ice cream brand Ben & Jerry's, Chris Miller notes "decentralized, democratized social media channels offer brands and companies the opportunity to connect more emotionally and around a shared set of values with people." And he says it's these shared values that drive "a deep sense of loyalty and affinity" among the company's fans.
"Are there people who disagree with our position on LGBTQ rights or our position in support of Black Lives Matter?" he asks. "There may be, but there are also a whole bunch of people who love us because we have the courage to speak out and support these things that we care about."
Connecticut-based business consultant Patty Lennon describes this polarization as a "very powerful" and a "beautiful thing in growing your company's brand." She says if you polarize your audience, you may get people who are very angry. But at the same time, "you're also magnetizing your ideal client."
That may sound risky if you're a new owner. Perhaps it helps to remember that you don't need to be loved by everyone.
Like Miller says, "If you're a small business in Oakland, you don't need three-fourths of Oakland to be a customer to be a vibrant, successful growing small business."
The takeaway: In a crowded marketplace, taking a stand sets you apart from the crowd. And while you may lose some customers, the ones you gain may become your biggest fans.
The business risks of taking a stand
Could taking a stand jeopardize your business? Depends who you ask. Miller, for example, doesn't think advocacy or activism is risky.
"Ultimately, it is better to be deeply loved by some people than inoffensive to everyone," he says.
However, media relations expert and president of Corbett Public Relations Bill Corbett says small business owners can see repercussions.
"The backlash can be severe and lead to boycotts, clients leaving, and the appearance of negative comments online or poor reviews," he says. "Negative media could occur as well, leading to long-lasting negative impacts on businesses and individuals."
Our current environment may have already caused some business relationships to fall apart. Lennon claims she has seen small business clients choose to exit contracts rather than work with consultants whose intense political statements made them question their objectivity. However, she still says it may be riskier for business owner to avoid a political issue when it's "central to their business brand or message."
For example, she says it might seem odd for a business that works directly with immigrants from Mexico to avoid taking a stand on a potential wall being built or offensive statements being made against immigrants.
In the end, Corbett says, "The owner must weigh the benefits and the consequences of making a statement or making a move that would be considered political. How will it impact business and how will it impact relationships? These are important questions to ask."
The takeaway: Taking a stand may be risky, but it might also be necessary.
As Corbett says, "It may be more comfortable to sit on the sidelines, but in business, nothing is ever comfortable."
How to manage business risk when you want to take a stand
There are steps you can take before you join the political conversation that may help manage your risk. For example, Lennon suggests business owners do a gut check before they take a position.
"If it's personal, do not do it until you can get to a point where you can be objective and honestly state that it is in support of your business's brand and mission," she says.
Miller points out that small business activism doesn't have to be consumer-facing. He says he was recently on a panel with a mid-sized business owner who used lobbying and op-ed pieces to build a business case for paid family leave. Moreover, he offers a list of resource to help small business owners who want to "infuse a sense of mission, purpose, and values in their companies."
He suggests looking into:
But backlash can happen even if you plan well. What should you do then? Lennon recommends…
Being open and honest with your audience about why you took the stand
Getting that communication out consistently
Only apologizing if you can be open, honest, and authentic
The takeaway: Planning is essential to your business's successful advocacy campaigns. Be sure to take both positive and negative outcomes into account.
Compare quotes from trusted carriers with Insureon
Complete Insureon's easy online application today to compare insurance quotes from top-rated U.S. carriers. Once you find the right policy for your small business, you can begin coverage in less than 24 hours.