Seasonal insurance needs: Protecting your concession stand
If you're planning on operating a seasonal concession stand this summer, such as a food market stall or ice cream cart, make sure to take the extra step to protect your business with insurance.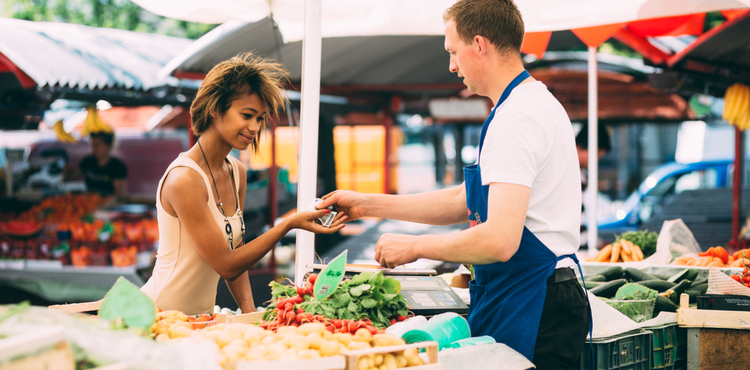 If you operate a farmers' market booth, ice cream cart, or concession stand for a fair or sporting venue, summer is likely your peak operating season. Which means that, as the temperatures rise, so do your insurance risks.
Here's an overview of how to keep your business safe and sound with adequate liability insurance as you gear up for another busy season.
Make sure your permits are up-to-date
Every state, city, and municipality has its own rules about how, where, and when concession stand businesses can operate and what official documents are required. Insurance companies won't extend a policy to a concessionary business that lacks appropriate permits to operate, so before you call your agent to update your policies, make sure you take care of all the licensing paperwork you need.
Once you have legal permission to do business, it's time to choose the business insurance products that will keep your inventory and investments safe from loss and damage.
General liability insurance for concession stands
General liability insurance is the baseline for any business owner, but the coverage included in this policy varies from industry to industry. Because you'll be doing what's considered "off-premise" food sales, you'll need to obtain special additional insured coverage.
Specifically, owners of the locations where you plan to sell (such as a football stadium or parking lot) will most likely want to be named as an additional insured on your insurance policies. If you plan to sell at more than one location during the season, you'll need to have multiple people or groups named as additional insureds. Your insurance agent can add to your general liability policy a blanket additional insured endorsement, which allows you to name multiple parties to your policy as you serve at different venues.
Property insurance for concession stand operators
Because most of your property is movable, one of the most important types of property coverage to purchase is inland marine insurance. This coverage protects property that moves or is used to transport goods.
You may also need off-premises coverage, depending on the specifics of your business. An Insureon agent can help you identify the specific kinds of property insurance most likely to protect the risks you face.
Seasonal insurance for concession stand operators
If you only operate your concession services during certain seasons, you may be a good candidate for seasonal insurance, which allows you to save money by not covering you when you aren't serving customers.
Seasonal insurance, like most types of liability insurance, can be tailored to meet the needs of most concessionary businesses, so ask your agent whether this type of coverage is appropriate for you.
Compare quotes from trusted carriers with Insureon
Complete Insureon's easy online application today to compare insurance quotes from top-rated U.S. carriers. Once you find the right policy for your small business, you can begin coverage in less than 24 hours.
Writtten by Brenna Lemieux.