5 questions to ask before designing your first logo
As one of the first orders of business when launching your company, designing a logo is an important undertaking. Ask yourself these five questions before you start to design your logo.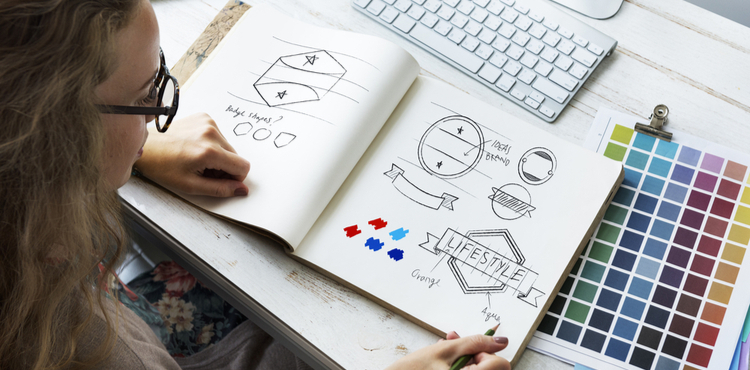 You've nailed down so many important aspects of your small business – such as defining your offerings, incorporating, and drafting a business plan – and now it's time to craft the perfect company logo. While this is definitely a fun process, it's also one that needs serious effort. After all, your logo is your customers' first impression of your business. It may be a little image, but it leaves a big impact on your brand. Before you start sketching designs, ask yourself these questions to ensure you're on the right track.
1. What does your business stand for?
One glance at your logo should convey to anyone what it is your business does, its mission, and its values. If you're not sure what your company stands for, consider your brand's existing message and how to communicate it through an image. Is your business thoughtful or a bit playful? Down to earth or elegant? Your logo displays your personality, so determine what yours is and which image will capture it.
2. Have you researched other logos?
When all is said and done, you'll need to register the trademark to ensure that you have the exclusive rights to use it. Until then, it's a good idea to research other logos and see what else is out there. Doing this allows you to see what other logos already exist and keeps you from creating any that might appear to be similar.
3. Does your logo follow the five design principles?
The best logos tend to follow these five rules of thumb for their designs:
Simple
The design is clean, uncomplicated, and instantly gets the brand's message across.
Versatile
Whether in black and white or in color, print or on a smartphone app's avatar, it's effective no matter where it gets placed or what color it is.
Timeless
As time passes, will the logo still look good and keep customers coming back?
Appropriate
Does the logo make sense for the audience it is trying to reach?
Memorable
Think McDonald's and its golden arches – everyone should immediately recognize it.
4. What are your color scheme and typography options?
For as much as you may want to use all of the colors of the rainbow and font sizes in your logo, it's a much better idea to focus on consistency and simplicity so you don't overwhelm your audience.
Study the science and emotions behind colors to determine which ones you'll include in your logo. Many restaurants tend to use reds and yellows in their brand messaging because these have been proven to make people hungry. On the other hand, blue is considered to be a more relaxing, tranquil shade; pink is used to convey a flirty tone; and green is associated with growth.
Your typography should be easy to read and timeless in both font size and style as well.
5. Will you need to hire an independent designer?
Once you've sketched your ideas out and have an understanding of the type of logo you want, you may want to create it using online resources. Or you may hire a design professional. If you choose to do the latter, the designer will work alongside you to create a design brief, do additional research on trends, and help you to conceptualize and bring your logo to life.
Whatever route you take, make sure that your team is aware of what's going on and supports the direction the logo is taking.
Compare quotes from trusted carriers with Insureon
Complete Insureon's easy online application today to compare insurance quotes from top-rated U.S. carriers. Once you find the right policy for your small business, you can begin coverage in less than 24 hours.
Deborah Sweeney is the CEO of MyCorporation.com. MyCorporation is a leader in online legal filing services for entrepreneurs and businesses, providing startup bundles that include corporation and LLC formation, registered agent, DBA, and trademark & copyright filing services. MyCorporation does all the work, making the business formation and maintenance quick and painless, so business owners can focus on what they do best. Follow her on Twitter @deborahsweeney and @mycorporation.