New service checklist for small businesses
The process of offering a new service at your business is littered with pitfalls. Review these tips to decrease the associated risks.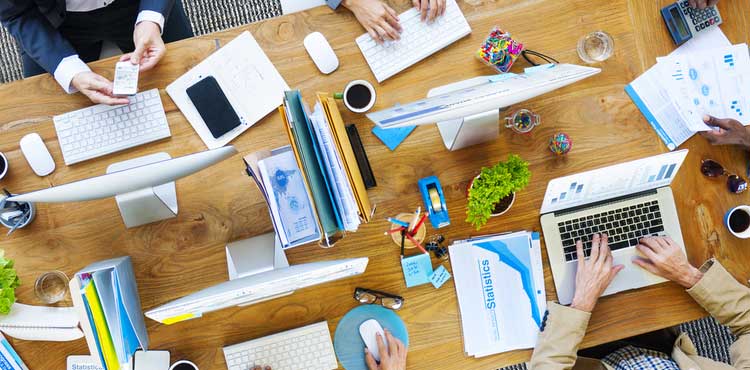 Offering a new service seems simple enough. You decide what you're going to do, set a price, and tell the public the service is available. Easy enough, right?
But like most business ventures, adding a service can be littered with pitfalls. Here are some tips to help you plan, avoid roadblocks, and make the most of your new service.
1. Research your market
According to Paul Lemley, founder and chief digital strategist of Lemley Media, you can start your market research by answering three key questions:
What is the existing or potential market size?
Lemley says you want to find out if the market is large enough to justify the time and capital investment. "Doing one's due diligence to properly size the market, know which competitors exist, how big they are, and at what price point they have, can provide basic insight into the viability of the new service," he says.
Is there interest from your existing customers?
"Your existing customers will be the cheapest form of early interest and revenue available," says Lemley. "Take the time to see if the new service is something they would actually be interested in."
Should this service be a standalone company?
Trying to be everything to everyone often means small businesses have to spend too much money on convincing a market they have value, says Lemley. But, he adds, starting a new company that focuses on your new service can eliminate confusion and cost less to market.
Pro tip: CEO of Stevens Consulting Group Drew Stevens says more than 91 percent of small-business owners don't research the market prior to a launch. That number is particularly eyebrow raising, considering Stevens says it is easy to get that information.
"A solid few hours of reviewing social media comments and review sites clearly helps a marketer to determine how to fill market need," Stevens notes.
2. Talk to your clients
"We tell all of our clients, 'everything starts with your clients,'" says Beth Carter, founder of Clariant Creative Agency.
To demonstrate her point, Carter tells the story of working with an auto repair center that was launching a new loaner car service. The owner planned to broadcast a "super generic message" in as many places as possible. But Carter's team convinced the owners to interview their best customers. Through these interviews, Carter identified four customer segments to target, each with their own pain points.
"Had we not stopped to think about the repair center's best customers, we would have simply sprayed and prayed," says Carter. "And we might have had some luck, but given the choice, we always prefer planning over luck."
Pro tip: If you're a startup with no clients to interview yet, picture your ideal customer. Ask yourself why they need your service, what their pain points are, and how your service addresses them. The more specific you are, the more thorough your marketing plans will be.
3. Plan your marketing strategy
Lemley says social media is the way to go for small-business owners who want to get the word out.
"They provide larger reaches, measurable results, and a clear click through to your web properties like your website, social accounts, and location listings," he says.
He encourages small businesses to reach out to a reputable digital marketing agency and spend advertising dollars on campaigns that can be quantified.
Pro tip: Stretch your budget even further with a community of marketing avatars. According to Stevens, these are the customers who are exceedingly happy with your services and will tell anyone in their path about your company.
He says, "Using existing clients to create community lowers acquisition, research, and marketing costs by 81 percent."
4. Set your prices
Laura Willett, a senior lecturer in accountancy at Bentley University, says you need to do even more homework before you decide what you're going to charge. For starters, she encourages business owners to find out what their competitors are charging for similar services.
"Let's say you wish to offer landscaping services," says Willett. "Do the other providers of this service charge by the hour or by the job? Do they offer a guarantee on the work? Who do they have working for them – high school kids or an experienced lawn care crew? The more you know about their business, the more likely you are to be competitive with your price."
Pro tip: Willett says many business owners decide what to charge based solely on covering their own costs, but that may be a mistake. If you don't look at what customers will pay, you could end up missing the mark.
5. Track your results
Independent consultant Natalie Andreas always tells clients, "If it's not worth measuring, it's not worth doing."
Her advice? Attach a metric to everything. She recommends:
Tracking website traffic to landing pages about new services.
Using the native analytics inside social media channels.
Measuring the click-thrus on all content related to new services.
But what metrics should you use? Andreas says you can figure that out by deciding on the ultimate win for your business.
"Obviously more sales and clients is the end goal, but would more engagement and web traffic lead to that goal?" She asks. "If an entry-level goal can't be identified, the campaign is already off track."
Pro tip: Lemley also encourages you to think about how your new service might help grow others through cross-selling. He suggests tracking customers who purchase multiple services to learn their motivation and reward them.
6. Update your errors and omissions insurance
Hopefully, your new service will attract an onslaught of new clients. But be forewarned: business growth is often synonymous with more risk.
In this case, more clients mean more opportunities for alleged mistakes in your work that might lead to lawsuits. So before you offer something new, make sure your errors and omissions insurance covers the service. As you may know, Errors & Omissions can help cover your legal fees if a client claims your mistake cost them money.
Pro tip: An E&O premium may seem like a lot to take on when your expanding, but it doesn't have to break your budget. Learn more in "How to save money on errors and omissions insurance."
Compare quotes from trusted carriers with Insureon
Complete Insureon's easy online application today to compare insurance quotes from top-rated U.S. carriers. Once you find the right policy for your small business, you can begin coverage in less than 24 hours.