Marketing a cleaning business: Productivity and health benefits of a clean space
A clean office helps workers stay healthy and productive. Here's how to win new customers for your cleaning business by selling the health and productivity benefits of a clean workspace.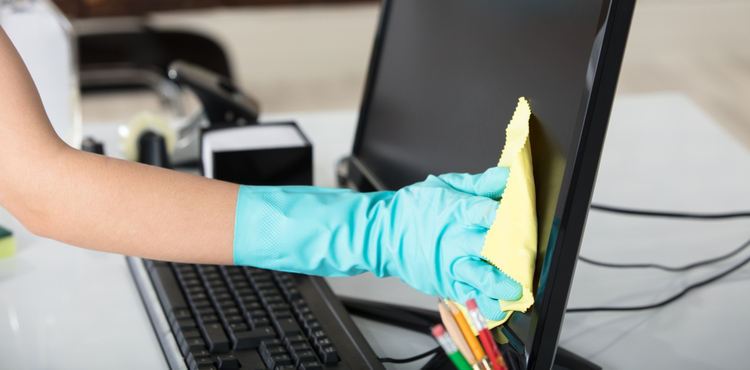 Professional cleaning may seem like a no-brainer to you. After all, who doesn't want a spotless home or office? But prospective clients may need some convincing. And what better way to show them the light than to showcase the financial benefits of a clean space?
Here are some selling points and how you can highlight these benefits in your cleaning business's marketing materials.
The bottom line? Professional cleaning leads to healthy, productive people
Make sure your marketing efforts have this clear takeaway: dirty, unkempt spaces are costly because they can spread germs and reduce productivity. Specifically, you may want to touch on these pain points:
Dirty workplaces lead to more sick days.
Without regular and thorough cleaning, germs and allergens run rampant in the office and make employees ill. A couple years ago,
Forbes reported
that the Integrated Benefits Institute found that poor health costs the public sector
$576 billion
a year. Of that amount,
$227 billion
stems from lost productivity when employees call in sick.
Cluttered areas can cause workplace injuries.
More obstacles mean more opportunities for employees to slip and fall at work. In other words, disorganized work environments can lead to more workers' compensation insurance claims. Plus, according to the Occupational Safety & Health Administration, workplace accidents and illnesses cost businesses $60 billion annually in lost productivity.
Disorganization impedes productivity.
Clutter increases stress.
UCLA researchers reported that stress hormones spike when people have to pick up or sort through scattered belongings.
Though some of these pain points may not apply to residential clients, remember that all types of clients care about health. For this reason, you may want to also play up your green cleaning services (if applicable) and explain how your cleaning products are safe.
Marketing tips for small cleaning businesses
Offices and homes are breeding grounds for germs, allergens, and bacteria, which can have measurable financial consequences. When framed that way, prospective clients would be wise to invest in professional cleaning services if it saves them money in the long run and promotes a better quality of life.
But how do you spread this message? You may want to write about the financial, health, and productivity perks of a clean home or office in:
Fliers
Blog posts
Online ads
Social media posts
You can even add a quick line on your business card about how cleanliness increases productivity and promotes good health. Also, be sure the benefits are part of your elevator pitch so when you meet potential clients, you can convince them on the spot.
Compare quotes from trusted carriers with Insureon
Complete Insureon's easy online application today to compare quotes for general liability and other kinds of insurance from top-rated U.S. carriers. Once you find the right policy, you can begin coverage in less than 24 hours.