How to hire great people when your business is tiny
If your small business looking to expand and hire more employees? Here's how you can attract impressive talent to your company.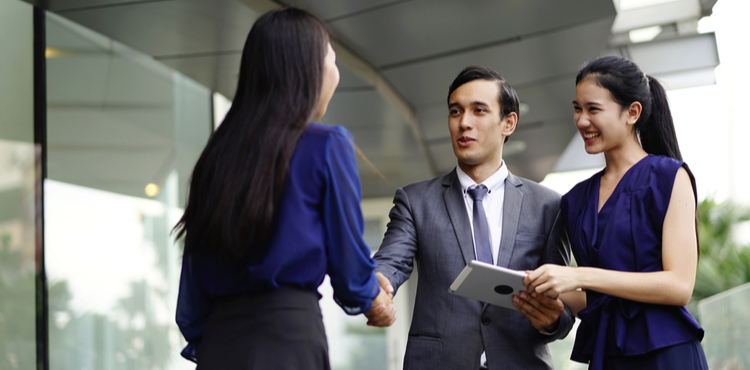 A large company has a lot going for it when it comes to hiring talent: resources, name recognition, and years spent showcasing company values and culture. Applicants know what they are applying for.
But small businesses have more to prove. With the rise of LinkedIn, Indeed, and other online hiring tools, there's more pressure to stand out and sell an environment that attracts talent to your business. Here are a few ways small businesses can attract and hire the cream of the crop.
1. Don't be boring
Jay Barnett, founder of the talent acquisition company Decision Toolbox, says selective job applicants appreciate when a company goes the extra mile in a job posting.
"I am amazed at how many companies' job postings comprise no more than lists of duties and responsibilities and required qualifications in the same career portal where they state things like, 'We engage your unique talents and perspectives. We welcome your ideas on how to do things differently and better,'" says Barnett.
Don't be that company. Instead, put your money where your mouth is. Make your job description reflect your culture and priorities.
Laura Handrick, human resources staff writer for the business education site Fit Small Business, offers some example job descriptions that illustrate a company's values and culture:
"Our company hires people we trust, then we let them do what they do best as plumbers, HVAC technicians, and electricians. If you're licensed and skilled and tired of being micromanaged, come work for us."
"We are a small team of dedicated IT professionals who wear shorts to work and play ping-pong on breaks. We work hard and play hard."
"We don't think of ourselves as lifeguards; we think of ourselves as life savers."
Sean Fitzpatrick, president of the employee engagement survey firm TalentMap, adds that job postings should still include keywords that describe your ideal applicant.
"Receiving a lot of candidates is good, but if they don't fit the position well, you're wasting your time and the applicants' time," he says.
For more pointers on penning job descriptions, check out "How to write a killer job description in 4 easy steps."
2. Be personal but strategic
Ben Martinez, CEO and founder of the subscription coffee service Sumato Coffee, says small businesses can stand apart from larger companies by playing to their strengths. He says smaller companies foster a more personal atmosphere, which is appealing to many candidates.
Prove that your business is approachable through a friendly, inviting job description and an easy application process.
"If I have to click out of Indeed or LinkedIn to apply on the company website, I usually skip it," Handrick explains. "If you're truly looking for candidates to fill jobs, make it as easy as possible to get you their resume and cover letter. Don't let it fall into an online black hole."
3. Rethink benefits
It can be more difficult for small businesses to compete with larger companies on traditional benefits, such as medical insurance, says Deanna Arnold, owner of the HR solutions company Employers Advantage LLC. But that doesn't mean you're out of luck.
Consider offering alternative benefits, such as flexible schedules, volunteer time, free snacks, and unlimited vacation days.
Tasha Liniger, vice president of HR at the cloud communications company DialPad, offers a real-world example of creative benefits. At her company, employees nominate people who've gone above and beyond into a quarterly drawing to win airfare and hotel accommodations for two anywhere in the world. Liniger said the vacations help her team feel motivated and builds buy-in to the company's culture.
Compare quotes from trusted carriers with Insureon
Complete Insureon's easy online application today to compare insurance quotes from top-rated U.S. carriers. Once you find the right policy for your small business, you can begin coverage in less than 24 hours.
About the contributors
Deanna Arnold is the owner of the HR solutions company Employers Advantage LLC.
Sean Fitzpatrick is the president of the employee engagement survey firm TalentMap.
Laura Handrick is a staff writer at Fit Small Business, specializing in the full cycle of human resource topics from recruiting to talent management. She holds SHRM certification as a Senior Professional in Human Resources (SPHR), a master's in educational technology, and is certified as an International Franchise Executive through the IFA.
Tasha Liniger has many years of HR and recruiting experience at the highest levels of corporate and technology startups in Silicon Valley. At DialPad, she's tapping the region's best and brightest engineers, product managers, and marketing professionals to join the anywhere worker revolution and help the company pursue its goal to kill the desk phone.
Ben Martinez is the CEO and founder of Sumato Coffee. He has 15 years of HR & recruiting experience in roles across the US & Mexico with Energizer, Honeywell & Pepsi.