How small businesses should brace for bad weather

Preparing ahead of time for a potential disaster could reduce the risks faced by your small business.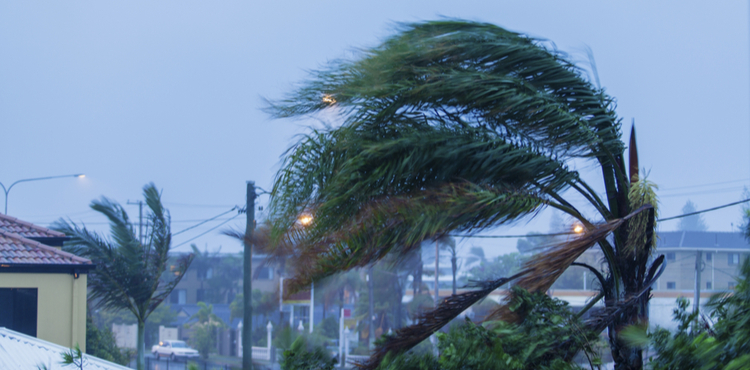 From blizzards that deposit a foot and a half of snow to devastating hurricanes that destroy entire communities, it's clear that weather is one thing we haven't been able to control.
But thankfully, inclement – and even dangerous – weather can be prepared for, though it can't be avoided entirely. The key is to remember that it can happen to anyone; even if a natural disaster has not affected you, your business, and your loved ones, disaster can still strike when you least expect it.
What are the effects of natural disasters on businesses?
Before we cover how to prepare for natural disasters, let's take a look at the three areas most vulnerable to natural disasters: capital, assets, and personnel.
Assets
Because assets are often tangible and physical (think inventory, real estate, equipment, or raw material) they're particularly vulnerable to the wide-reaching havoc of Mother Nature. From warehouse floods to collapsed roofs, there are countless ways to incur asset damage beyond depreciation.
To compound matters, small businesses may not be able to spread out their assets over multiple locations. In order to save money and make operations smoother, smaller enterprises may choose to concentrate assets in a single, centralized location. Though this is good operational practice, it's poor preparation for a storm.
Personnel
It's hard for small businesses to reopen after natural disasters. There may be fewer employees to assist with rebuilding efforts, and there are also a raft of complex state and federal regulations that make very specific distinctions between salaried and non-salaried employees, paid time off, and remote work provisions. Learn more about those distinctions in this article from Fortune.
Capital
Capital will play a key role in getting your business back on its feet, from replacing waterlogged equipment to hiring temporary help for recovery efforts. But for entrepreneurs who run small to medium-sized businesses, the lack of capital for recovery can be particularly daunting. After all, disaster costs can be overwhelming – particularly if you are uninsured or your insurance provider rejects your claim.
How to prepare for a natural disaster
1. Draft a natural disaster plan
Though disaster recovery plans vary depending on your circumstances, environment, and threat profile (for instance, a coastal surf shop versus a Midwestern factory), all business plans must accomplish several common goals.
First, effective plans must address several common concerns such as data, communications, and employees. A lapse in communication can prove devastating to companies like law firms or news agencies, which depend on timely, accurate, and up-to-date data to function. In these situations, it's important to set up crisis communications systems, such as text and email blasts, evacuation alerts, cell phones, and other messaging services (like Skype or Google Hangouts).
Entrepreneurs also need to establish procedures for both workplace evacuation and, after the storm, resumption of business operations. Evacuation protocols include appointing and training employees as leaders (such as fire marshals) so that everyone can leave in a safe, orderly manner. Establish a number of evacuation routes in case your primary path is obstructed. Decide whether you will provide safety equipment, ranging from fire extinguishers to defibrillators.
Compared to evacuation, which is stressful but immediate, the process of resuming business operations after a storm is a longer, more drawn out effort. In your post-disaster plan, you need to determine whether you wish to hire outside assistance to get your business up and running again. If you are indisposed, a designated person needs to run the business and liaise with federal and local agencies in your absence.
Lastly, it's important to find an alternate workplace, just in case your primary place of business is unavailable. Some entrepreneurs contract outside providers, which guarantees a workspace even after a major disaster, but bear in mind that this is a recurring, regular cost. Even so, when weighed against the potential business losses (as well as the high expenses incurred after the storm), it may be worthwhile.
2. Move as much of your data to the cloud as possible
Transitioning to cloud-based software is not just good disaster prep, it's also a sound business move, according to Salesforce. You can save money on physical storage and allow your employees to access information remotely.
Most importantly, cloud computing is hardware independent, meaning that all your vital information (sales figures, account numbers, profit margins) is safely backed up in the cloud and can be instantly transferred between one data center to the next.
3. Buy disaster insurance
According to FEMA, 40% to 60% of small businesses are forced to shut down after a disaster. That's why a sound disaster insurance plan may be the most important preparation for your small business. However, experts caution against buying the first plan you see; you should shop around for plans suitable for your specific needs and circumstances.
Consider the types of protections that each insurance policy offers and whether such coverage will be useful to you. If you own a manufacturing business on the swampy southeastern coast, you'll likely want a comprehensive policy that covers equipment, and includes specific hurricane, flood, and water damage provisions – clauses that most general business insurance policies lack.
The sun always rises
Ultimately, preparing for natural disasters like storms, hurricanes, and blizzards can be tedious and time-consuming. But in the long run, these preparations are always extremely cost effective. To paraphrase an old saying, an ounce of business insurance is worth a pound of capital.
Compare quotes from trusted carriers with Insureon
Complete Insureon's easy online application today to compare insurance quotes from top-rated U.S. carriers. Once you find the right policy for your small business, you can begin coverage in less than 24 hours.