How does commercial umbrella insurance work?
When your business has reached the limit on other insurance policies, umbrella liability insurance can step in to cover the costs.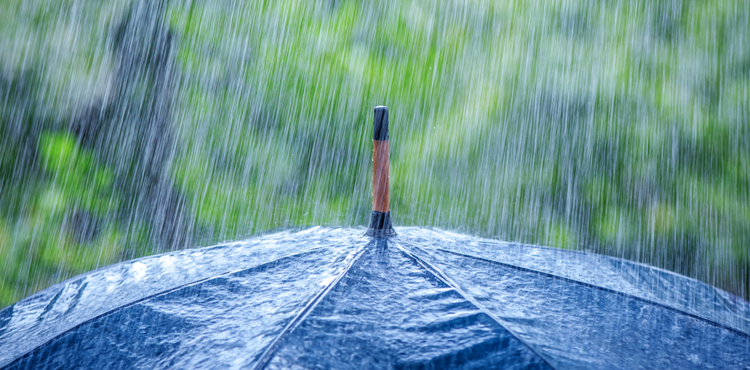 If you're looking to reduce your small business insurance costs, maybe it's time to consider purchasing an umbrella liability insurance policy. This coverage, also known as excess liability insurance, is designed to cushion existing insurance policies so that you receive a higher level of protection against certain lawsuits.
Umbrella liability insurance can step in when you've reached your limits on the following policies and you need additional coverage:
Once you've met the stated limits on your primary policy, you can make a claim on your umbrella policy to receive the additional coverage you need. Keep reading to learn how this policy works and why it can save you money on your business protection plan.
How umbrella liability insurance works
Say a customer slipped and fell in your retail store. The injured person decides to sue your business for premises liability. Unfortunately, the court awards the plaintiff $1.1 million in damages, and your general liability insurance maxes out at $1 million.
The damages that exceed your insurance's stated limits are your out-of-pocket responsibility. But instead of taking a $100,000 hit, you make a claim on your umbrella liability insurance to receive additional coverage.
It's that easy. A single umbrella policy can offer millions more in coverage that you can put toward compatible existing policies. With the supplemental coverage in force, you can rest assured that you have extra protection when and where you need it most.
Before you shop for an umbrella policy, keep the following in mind:
Know that errors and omissions insurance isn't covered by your umbrella policy
Your umbrella plan can only step in when your general liability, hired and non-owned auto liability, or employer's liability insurance limits have been reached.
You can't make an umbrella liability claim to cover any additional amount over your errors and omissions / professional liability insurance limits. If you're concerned that your E&O limits aren't adequate, be sure to speak to an insurance agent about your options.
Consider purchasing umbrella liability to meet coverage stipulations in client contracts
Sometimes a client contract will require your business to have certain coverage levels before you perform work on their behalf. Instead of increasing your general liability limits (which will raise your premium), consider purchasing supplemental coverage with umbrella liability insurance to meet your client's requirements. This option can save you money and boost your potential coverage by the millions.
Why umbrella liability insurance can save you money
Umbrella / excess liability insurance's versatility is one of its most valuable assets. For a single, low-cost annual premium, you can put the coverage toward three different policies.
To give you some perspective, consider the hassle it would be to individually increase your general liability, hired and non-owned auto liability, and employer's liability limits. Your premiums for all three policies would rise considerably, and you still may not receive as much coverage as you would with an umbrella policy.
With excess liability Insurance on hand, you can draw on the additional coverage only when you absolutely need it. Plus, you'll receive more coverage for less money because umbrella liability coverage:
Can be purchased in $1 million increments
Costs as little as a few hundred dollars a year
To get a better idea of what you might pay (and save), see our guide, "How much does business umbrella insurance cost?"
Who can benefit from an umbrella liability policy?
As long as you have a business with certain liability exposures, you can benefit from an umbrella policy. Here are a few indications that this coverage may be a good fit for your business:
Your commercial property is open to the public. This increases the chance that you may face a costly general liability lawsuit.
Your employees use their cars to run business errands. If they collide with another vehicle, your business could be sued for damages.
Your employees could be injured on the job. If they sue your business for the negligence that contributed to their occupational injuries, you could face an expensive judgment or settlement.
You work with wealthy clients. They may require you to carry more insurance to mitigate potential losses.
You never know when your business may be sued, so it's always smart to manage the risk before it becomes a reality. Umbrella coverage allows you to plan for these unpreventable scenarios while still giving your business insurance plan the flexibility it needs to protect your company.
If you're looking for more ways to save on your business insurance, take a look at "The small business guide to cutting insurance costs."
Compare quotes from trusted carriers with Insureon
Complete Insureon's easy online application today to compare insurance quotes from top-rated U.S. carriers. Once you find the right policy for your small business, you can begin coverage in less than 24 hours.