Holiday party essentials: liquor liability insurance
If you're looking to throw an end of the year holiday bash, take steps to protect your employees and your business.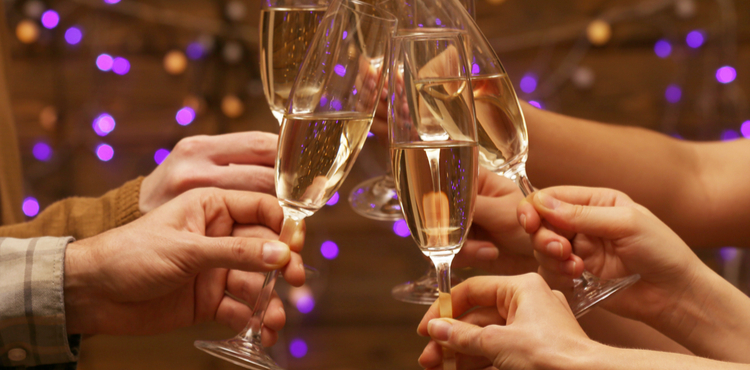 Holiday parties are a great opportunity for you and your employees to reconnect outside of your typical workday and celebrate your accomplishments.
However, supplying your employees and guests with alcohol at holiday events comes with its own unique set of business risks. It's important to take steps to make sure everyone celebrates safely and your business is not exposed to liabilities.
How can you prevent liquor liability lawsuits?
The answer to this question is not to let fear dictate the amount of fun you and your employees have this holiday season, but rather to be aware of the steps you can take to make sure everything goes smoothly by conducting your holiday party in a safe, but fun, way.
For some basic information on liquor liability lawsuits, check out the post 5 questions to ask about liquor liability coverage.
Have trained bartenders serve your guests
It might be a fun idea to invite a family member or friend to come with a Santa's hat and pour your employees drinks, but it's best to hire a trained professional. Trained bartenders know the signs of inebriation and have practice in politely telling drunk patrons when they've had too much. This is important when you're concerned about limiting the potential for your employees to leave and get into a serious accident. Plus, when you hire out liquor service, you disperse your firm's potential liability if anything should go wrong.
Hire a shuttle or offer transportation reimbursements
It might take a bit out of your party budget, but providing rides for potentially intoxicated employees is not only kind, but financially savvy. Preventing liquor liability suits can both protect your employees and other motorists. Consider hiring a shuttle service, or make it clear to all attendees that they can expense their transportation costs for taxis and ride-share services.
Limit common alcohol-related injuries
Drunk driving isn't the only thing you have to worry about when inviting employees and their friends and spouses to celebrate the holidays – injuries are also unfortunately common. You may have allowed your employees to bring friends and spouses along in hopes of adding to the number of potential designated drivers, but you also added possibilities for liability suits.
If someone drops their drink, make sure the area is cordoned off and cleaned up quickly. If you see someone get up on a rickety chair or table while singing the words to their favorite holiday song, go ahead and "be that person" who reminds them it's unsafe. The last thing you want is a costly slip, trip, or fall to ruin everyone's night.
Carry liquor liability insurance
Liquor liability insurance is likely included as part of your general liability insurance policy. If you're not sure whether it's in your policy, contact your agent right away. We can get you additional information on the benefits of liquor liability insurance as well as the proper coverage for general liability insurance.
Compare insurance quotes from trusted carriers with Insureon
Complete Insureon's easy online application today to compare insurance quotes from top-rated U.S. companies. Once you find the right policy for your small business, you can begin coverage in less than 24 hours.