Happy hour (and increased liquor liability exposure) return to Illinois
If Illinois food and beverage businesses want to offer happy hour specials, they should keep the following guidelines in mind to protect themselves and their customers.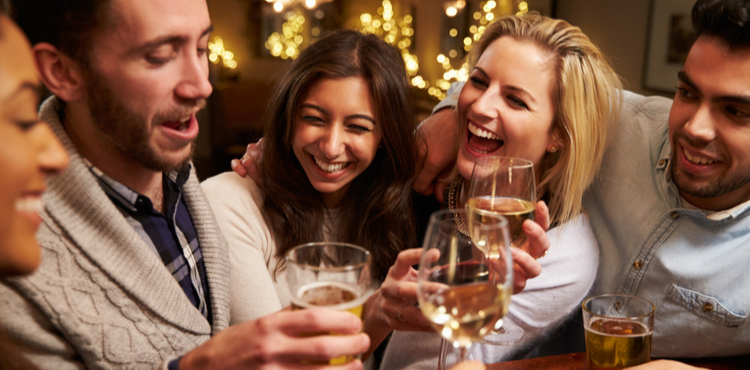 After a 26-year ban, happy hours are again legal in the Land of Lincoln. That could be very good news for your restaurant or bar, especially if you want to lure in new customers or tourists with cheap drinks. Before you slash your alcohol prices with impunity, there are a few restrictions. According to The Chicago Tribune…
Discounts are allowed for up to four hours a day and up to 15 hours a week.
These discounts must be advertised a week in advance and can't be offered after 10 p.m.
You can't offer volume specials (two drinks for the price of one) or give drinks away as prizes.
You can't offer unlimited drinks for a fixed price (the exception being private functions).
The cherry on top: the new law also allows you to offer food and alcoholic drink pairings for a fixed price.
While this may seem like a sweeping victory from a sales standpoint, there are some drawbacks. Namely, lifting restrictions on happy hour specials could encourage people to indulge more than they would if they were paying full price for their beverages. That means you may have to contend with more liquor liability exposures.
Liquor liability refers to your financial responsibility to make up for losses or injuries your drunken patrons cause. For example, if an intoxicated patron gets behind the wheel and kills a pedestrian, the victim's family can sue your business over the incident.
For now, here are some ways your bar or restaurant can take advantage of the now legal happy hour while taking measures to reduce the chance of intoxicated accidents.
Offer discounted or free food during happy hour to encourage eating
A full stomach slows the rate of alcohol absorption, which can keep your guests from getting drunk quickly. To learn more about other factors that affect the speed of alcohol absorption, check out this guide from Stanford University.
Make non-alcoholic beverages available
If you only serve alcohol, your patrons will whet their whistles on boozy beverages and drop like flies. And you can't have that, unless you want a slew of lawsuits to head your way. Supplement your alcoholic drink menu with plenty of "virgin" alternatives, club sodas, and soft drinks.
Train servers to recognize those who have been overserved
In some states, it's required that your servers complete an alcohol service-training program. In other states, this training program can protect your establishment from liquor liability lawsuits (in Texas, this is known as the Safe Harbor clause). A plaintiff would have to prove that you encouraged your employees to disregard their training and keep serving an intoxicated patron in order to win a liquor liability lawsuit against your establishment.
Even if your state doesn't have these requirements or incentives, alcohol training is valuable in itself. It allows your servers to identify the telltale signs of intoxication and can teach them how to politely discontinue serving a patron who has had a few too many.
Limit the number of drinks a person can buy at one time
You already know you can't offer two-for-one drink specials. But it's also smart not to sell four drinks to one person all at once. If they are trying to buy drinks for their table, your servers or bartenders should require that their friends order their own drinks or come up to the bar to get theirs.
Provide transportation for intoxicated patrons leaving the premises
Each year, far too many Americans lose their lives to drunk driving accidents. The National Highway Traffic Safety Administration reports that in 2012 these accidents claimed 10,322 lives.
If that doesn't scare you, this should: your business can be sued if one of your intoxicated patrons is the reason someone loses their life. You can read about a lawsuit that seeks $20 million in damages from the bar that served a drunk driver in the post "Drunk driving lawsuit against bars highlights liquor liability exposures."
To combat the risk of drunk drivers, instruct your staff to always call a cab for intoxicated guests. Better to pay for their fare than to pay for a lawsuit later.
Incentivize designated drivers
If you want more people to volunteer as designated drivers to transport tipsy guests home, give them a reason to not partake. For example, you could offer designated drivers free non-alcoholic drinks or discounts on food.
Compare quotes from trusted carriers with Insureon
Complete Insureon's easy online application today to compare insurance quotes from top-rated U.S. carriers. Once you find the right policy for your small business, you can begin coverage in less than 24 hours.