General liability insurance and the case of the $20,000 puddle
Slip-and-fall lawsuits are costly and common. Luckily, general liability insurance can protect your business from the damages.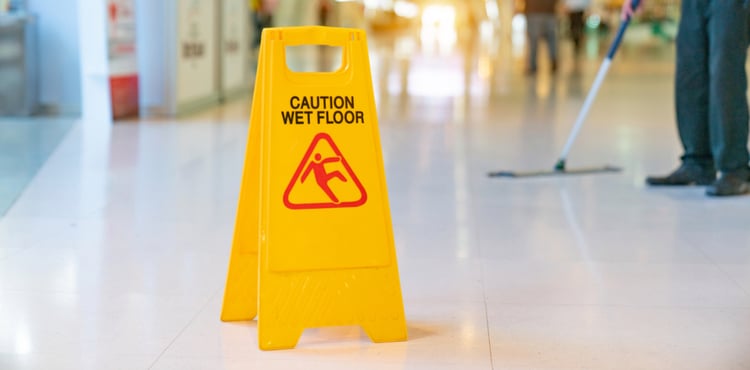 Slips, trips, and falls seem like the kind of things that happen at other people's businesses – until one happens at yours. In fact, one of the most remarkable features of slip-and-fall injuries is that they are in no way remarkable – they're downright common.
How common? According to a report on small business insurance claims conducted by insurance carrier The Hartford last year, slip-and-fall claims are the fifth most common ones, accounting for 10% of all claims small businesses file.
Here's the really scary part: the average slip-and-fall case costs about $20,000 to resolve. That's a lot more money than most business owners have set aside for emergencies.
How general liability insurance helps when someone falls
Obviously, it's never good when a customer or another third party gets hurt on your property. But having an active general liability insurance policy can prevent a bad situation from growing worse.
General liability benefits can typically pay for:
The cost of an ambulance ride and emergency room care for an injured patron
The cost of medical bills for someone who seeks treatment after falling on your premises
The legal costs associated with a lawsuit brought by someone who fell at your business
In other words, your general liability coverage empowers you to offer the best possible customer service in the event of a worst-case scenario. With typical policy limits of $1 million to $2 million, most small business general liability policies can easily handle the costs triggered by an onsite injury.
When general liability insurance can't help
Of course, if you or one of your employees is the one to slip and fall on that puddle or loose carpet, your general liability insurance won't be any help. Why? Because it's specifically designed to cover third-party injuries.
Third parties are people who aren't you, your employees, or your insurance provider. We used the example above of a customer getting injured, but third parties also include delivery people, plumbers or electricians on the premises to do work, folks who came in to get out of the rain, and so on.
If you or one of your employees does get hurt at work, workers' compensation insurance is the coverage designed to cover the related expenses.
Preventing injuries is your best bet
Even if you have general liability insurance, it's better for everyone involved if you can prevent an injury from happening in the first place. Andrew Vines, injury lawyer with Johnson & Vines, PLLC, reminds us that small business owners have a legal duty to maintain their premises in a reasonably safe condition.
"Whether this duty has been met usually depends on the length of time the slippery substance was present in an area of customer foot traffic," Vines says. "The longer the substance is on the floor, the more likely it is that the owner will be found negligent in failing to remove it." In other words: the worse you are at preventing injuries, the more likely you'll be found liable for wrongdoing in court.
If you can't prevent injuries, show customers you care
Accidents happen in even the best-prepared businesses. When they do, says Lawrence Buckfire, injury attorney with Buckfire & Buckfire, P.C., it's essential to show the injured person that you're invested in their well-being.
"Customers are more likely to sue when a store shows a lack of concern or indifference about the injury," Buckfire says. "You do not need to apologize, but just show that you care that a customer was injured on your property."
If the injury is serious, he suggests insisting that your claims adjuster call as well. "Many times a customer is told there will be a call from an adjuster but never receives one. That is when they call a lawyer." Yikes.
7 ways to reduce your risk of slip-and-fall lawsuits
Make a habit of checking for hazards like wet floors, loose rugs, cracks, etc.
Keep a record of hazard inspections so you have evidence to offer about when a hazard might have appeared.
As soon as you discover a hazard, alert your visitors with signs or warnings. Work to have it resolved as soon as possible.
Use a camera system with video storage. In the event of a customer claim, the footage will help determine what happened.
Take action immediately following the report of a slip-and-fall accident. Get statements from the victims and any witnesses and take pictures of where it happened.
Report the claim to your insurer as soon as possible.
Follow up with the injured person to show you're invested in their well-being and request that your insurance provider do the same.
Compare quotes from trusted carriers with Insureon
Complete Insureon's easy online application today to compare quotes for general liability and other types of insurance from top-rated U.S. carriers. Once you find the right policy for your small business, you can begin coverage in less than 24 hours.