Catering gig turns into $2.9 million lawsuit
When you take on a catering gig, you open yourself up to a variety of liabilities, including tragic and expensive wrongful death suits. Protect your catering business from astronomical legal fees with product liability insurance.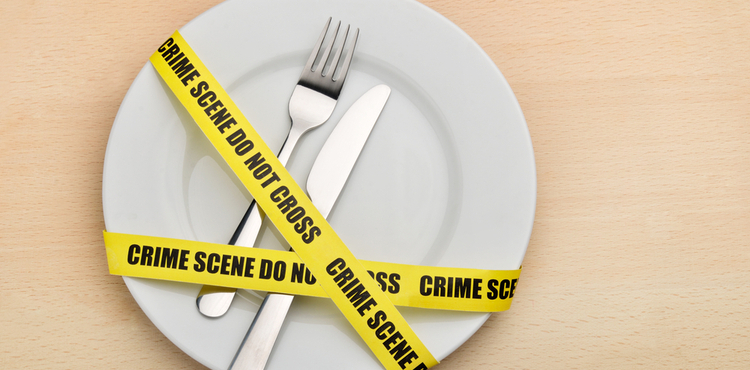 What started as a simple catering gig quickly became a small food business's worst nightmare. According to The Portland Tribune, the Oregon-based restaurant Maggie's Buns catered a luncheon back in 2013, and shortly thereafter, several guests developed gastrointestinal illnesses. The report states Kevin Weeks was one of these unlucky attendees, and he died four days later, allegedly because the catered food was contaminated with norovirus.
Weeks' widow is suing Maggie's Buns for the wrongful death of her husband, claiming that the restaurant provided defective, dangerous, and contaminated food that directly caused his untimely demise.
And boy is Ms. Weeks going for the jugular. The lawsuit seeks:
$200,000 in Kevin Weeks' non-economic damages.
$1,923.90 in funeral and burial services.
$1.22 million in economic loss to his estate.
$500,000 in non-economic damages to the widow.
$500,000 in non-economic damages to their adopted daughter.
$200,000 in non-economic damages to Weeks' parents.
Other undisclosed costs.
If you don't want to bother with the math, that's a grand total of $2.92 million in damages over product liability and negligence. This is the kind of lawsuit that can irreparably harm a small business if it doesn't have adequate insurance coverage.
With that in mind, let's explore which policies can protect your food business from a similar lawsuit.
Need product liability coverage? check out general liability insurance
If a customer claims the food your business prepared or served caused them physical harm, your general liability insurance can help so long as it has product liability coverage. This part of your policy may be triggered when:
A dish you serve causes a customer to have an allergic reaction
Your piping hot coffee burns someone
You accidentally serve contaminated food that causes food-borne illnesses
If you're sued over these injuries, your product liability insurance may offer coverage for your legal defense fees, court costs, and settlement or judgments. Even if the lawsuit is ultimately dropped, you'd still be on the hook for attorneys' fees, which can be a small fortune. Good thing your policy can help cover those, too.
What if my product liability coverage isn't enough?
Though many small food businesses have general liability insurance with product liability coverage, their limits may not be high enough to address a $2.9-million wrongful death lawsuit (common limits are $1 million or $2 million).
To avoid the fate of the underinsured, you have a few options:
Work with an agent who specializes in food business insurance
Your food business insurance agent can help you figure out the appropriate limits to match your risks.
Choose higher general liability / product liability limits
This is one way to ensure you have adequate coverage, but it may not be financially feasible. Remember, the higher your limits, the higher your premium will often be.
Invest in umbrella insurance
This policy can supplement your general liability coverage when its limits have been reached. For example, say you have $2 million in GL coverage, but you're hit with a product liability lawsuit and you owe $2.92 million (à la Maggie's Buns). That leftover $900k would have to come out of your own pocket unless you have umbrella insurance. You can apply your umbrella coverage to the GL claim to cover what your primary policy couldn't. This option offers you millions more in coverage, usually for as little as a couple hundred extra bucks a year.
Compare quotes from trusted carriers with Insureon
Complete Insureon's easy online application today to compare insurance quotes from top-rated U.S. carriers. Once you find the right policy for your small business, you can begin coverage in less than 24 hours.